Feb 2015 - More Helapet news with issue two!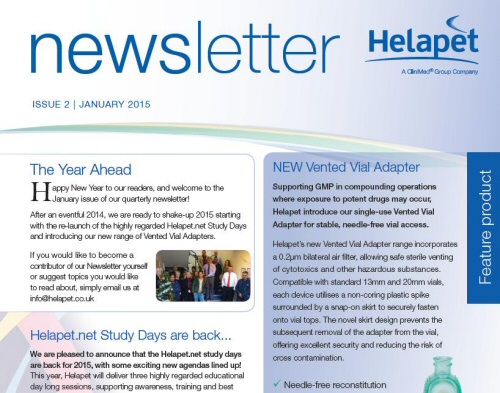 Following our well received 30th Anniversary issue of our new Newsletter, this quarter now marks the start of 2015 and the continuation…... with issue two!
The January 2015 edition showcases the re-introduction of our renowned Helapet.net study days, and features our brand new range of needle-free Vented Vial Adapters. A complete review of the last few months includes recently attended exhibitions, charity events and much more...
It is our pleasure to publish this newsletter as a quarterly summary of Helapet news and events, including interesting and thought provoking articles contributed by media partners and sponsors.
If you would like a copy of the Newsletter, simply email your name and address to info@helapet.co.uk
Feb 2015