Holidays are coming...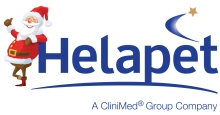 There is still time to place your orders up until 11am on Thursday 24th December, when our offices will be closing. Helapet will reopen normal business hours, from Monday 4th January 2016.
Click here for information on guaranteed delivery and how you can order for Christmas or the New Year. Keep up-to-date with Helapet news in 2016 by connecting with us via LinkedIn or Twitter, or why not sign-up to receive our quarterly newsletter!
Dec 2015