July 2016 - Pick up our latest spring / summer newsletter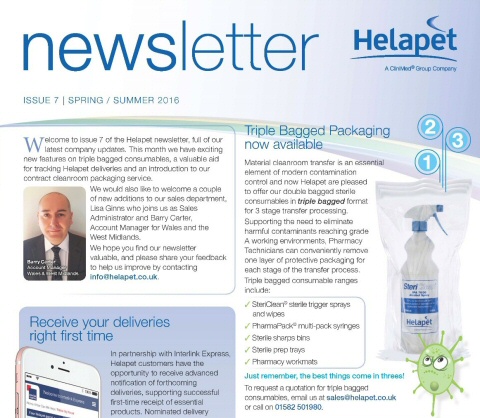 As summer gradually gets underway, we welcome you with Issue 7 of our Helapet newsletter!
Key articles include a useful custom facility for tracking Helapet deliveries, an introduction to our in-house sterile packaging and liquid filling service as well as the launch of our triple bagged sterile consumables.
This latest issue also introduces two new members to the Helapet team, Barry Carter and Lisa Ginns.
If you would like to download a copy of our latest newsletter click here, or if you prefer a hard-copy simply email your name and address to info@helapet.co.uk.
Click here to download Issue 7, or subscribe today to be part of our newsletter mailing list.
Jul 2016