Female Luer Lock (Micro Channel) Connector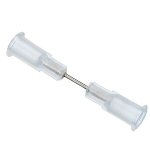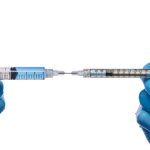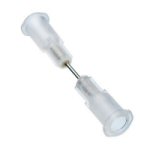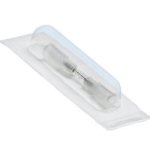 Description
Designed to facilitate precise transfer of small doses of medication between syringes, the Female Luer Lock (Micro Channel) Connector can be applied to the end of luer lock syringes using a narrow bore pathway to limit residual waste to only 0.0066ml*.
Ideal for paediatric medicines, small syringe doses and high value medication, the unique design includes robust semi-transparent hubs allowing a clear view of the connection. Each connector is manufactured latex-free and is non-pyrogenic.
Presented sterile in peel-away blister packaging supports disinfection into aseptic environments and non-touch application to a syringe.
* Test data available on request - Cross-sectional examination of luer lock connectors to determine volumetric capacity; 2017
Downloads
Specification
Dimension
Device
40mm (L) x 8mm ∅
Pathway
20mm (L) x 0.65mm ∅
Volume
0.0066ml*
Material
Hub Connectors
Clear polypropylene
Pathway
19 gauge stainless steel
Sterilisation
Ethylene Oxide (ETO)
Packaging
Individual peel-away blister
Technical Data
Part Code
Product Name
Size
Sterility
Sales Unit
IV5712
Female Luer Lock (Micro Channel) Connector
40mm
sterile
100 pcs/pck
Features and Benefits
Precise, contaminant-free transfer of fluids
Minimal residual waste between syringes*
Secure double-ended luer lock connections
Clear polypropylene hubs
Ideal for small syringe doses
Latex-free, non-pyrogenic
Sterile
CE-marked