TimestripPlus™ +8°C - Cold Chain Indicator
Helapet are pleased to offer the Timestrip Plus™, an accurate disposable device which can monitor how long a temperature breach has occurred above the +8°C temperature threshold.
Ideal for cold chain pharmacy and blood monitoring requirements, the Timestrip Plus™ provides immediate indication of when a temperature breach has occurred, and using a period window can tell the user how many hours the product has been exposed. Designed specifically for cold chain systems that operate a +2°C to +8°C threshold, Timestrip Plus™ is ideal for the transportation of Vaccines, TPN, Cytotoxics, Insulin, Antibiotics and other temperature sensitive products.
Small in size and available with an adhesive back, the Timestrip Plus™ can be easily applied to different types of products and packaging. The indication windows are easy to read and understand, and activation begins with a simple squeeze of the blister on top of the device. As long as the transported product is held at, or under the temperature threshold the windows will remain white; changing to blue once a temperature breach has occurred.
Effective as a regular indicator or as an audit tool, the Timestrip Plus™ offers essential support for accurate monitoring of cold chain logistic operations. Providing a flexible and cost effective solution, Helapet offer Timestrip Plus™ in pack of 100pcs per pack, with full customer support and validation data on request.
Complete Solution
Timestrip Plus™ can also be used in conjunction with the Timestrip Minus™ to accurately monitor both the ascending and descending temperature threshold in a +2°C - +8°C cold chain system. Activated together using a simple push button on the device, the Timestrip Plus / Minus™ combination can provide the complete solution in accurate cold chain monitoring.
Technical Data
| | |
| --- | --- |
| Highly Accurate – Time lapse indication of +8°C temperature breach indicator | Environmentally friendly |
| Simple to activate – press the blister firmly and first window turns blue (after activation place in below +6°C environment for at least 1 hour, before applying to product) | Serial coded on each indicator for traceability |
| Long Shelf Life | Easily disposable once used - reducing potential theft and loss expenses |
| Water resistant | Can be used for regular temperature monitoring or as an audit tool |
| Cumulative time indicator – (stops when temperature returns below +8°C after breach has occurred) | Packed in 100pcs/pk |
| Clear indication of breach from white to blue | Part Reference: TP065 |
How to Activate a Timestrip Plus Ascending Temperature Indicator
Demonstration of activation and use of Timestrip Plus Ascending Temperature Indicator. Shows how it looks before and after exposure to elevated temperatures over a period of time.
Related channels


If you like this product, please 'LIKE' our dedicated page on facebook and follow us on twitter
Non-sterile
Download Supporting Documentation (External Link)
Related Products
Syringes
Click any picture for a larger view.
Picture Gallery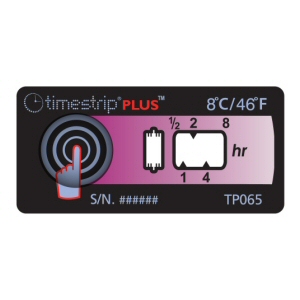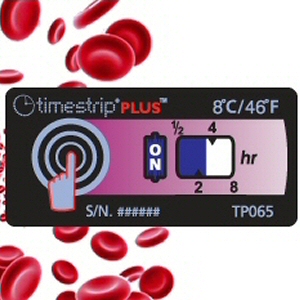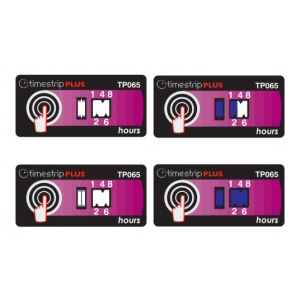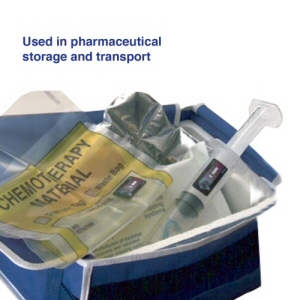 Can't find what you want? Please contact us.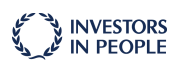 Not found what you're looking for?
Then please contact us on freephone
0800 0328 428
or, email sales@helapet.co.uk