Case Study 1 - Contract Cleanroom Packing and Liquid Filling
Helapet pulls the trigger on OEM sterile alcohol spray for European distributor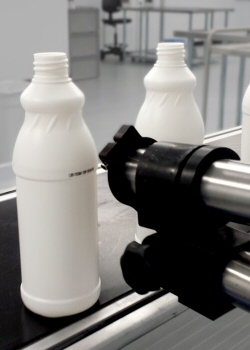 An overseas distributor contacted Helapet seeking a contract cleanroom packer that could produce a dedicated range of sterile IPA alcohol sprays. The client wanted to present their brand in a closed system PET trigger spray bottle so to appeal to cleanroom-based users.
Working closely with the company on their intended presentation and vision for the product, Helapet began planning the project to meet the expected volume and timeframe requirements.
Making sure the product was totally suitable for the target market meant drawing on our 30+ years of specialist knowledge and expertise in producing consumable products for high grade cleanroom environments.
The complicated packaging process was planned and executed utilising our in-house cleanroom packaging and filling lines allowing us to efficiently assemble, fill and bag each trigger spray while maintaining total quality control before release. The bottle components were proceeded into the cleanroom for labelling, manual assembly and liquid filling using an ISO Class 4 laminar flow environment. With the trigger spray closure applied, each bottle was individually double-bagged using our vacuum sealer, removing air to help create a quality heat seal and aid packing into the shipping cartons. Each bottle was visually checked and random burst testing was performed to ensure pressure resistance under gamma sterilisation. After final case packaging and palletisation, the product was sent for sterilisation using an external partner.
Complemented with full certificates of conformance and lot traceability, the efficiency of this project ensured the client received a quality packaged product ready for re-distribution.
If you have a packaging or liquid fill project in mind that you would like to discuss with us, please contact 01582 501980 or email details to sales@helapet.co.uk
See our full list of cleanroom packing, bagging and liquid fill services at: