PharmaPack® Sterile Multi-Pack Syringes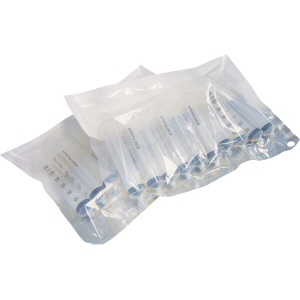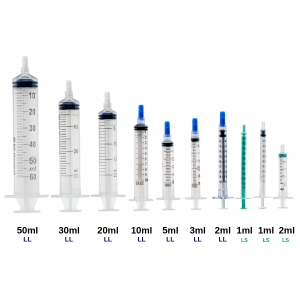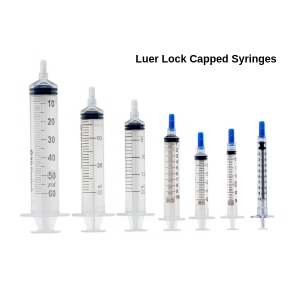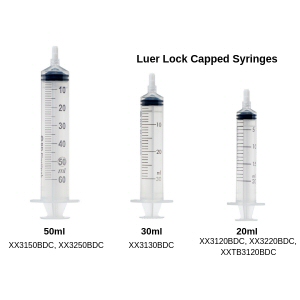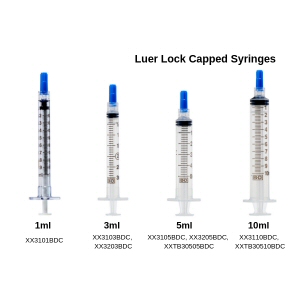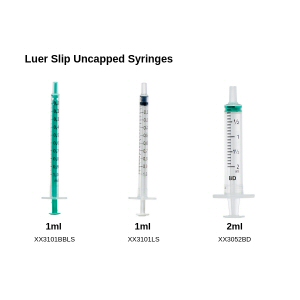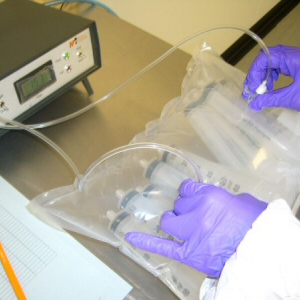 Description
Use PharmaPack® to safely and conveniently transfer several sterile syringes in a single bag, reducing time, energy, packaging waste and risk of contamination. Helapet offer a comprehensive range of quality prepared CE marked luer-lock and luer-slip syringes, available in several sizes and packaging configurations to suit specific production requirements.
Designed for use in aseptic manufacturing units, PharmaPack® supports the latest disinfection and aseptic transfer protocols with multi-bag packaging using low-lint materials. All packs are terminally sterilised for use in high grade cleanroom environments and undergo regular sample testing for added customer assurance.
PharmaPack® sterile BD luer lock syringes in combination with selected Helapet syringe caps are microbiologically and structurally integrity tested in accordance with the NHS Method Document: Protocols for the Integrity Testing of Devices*.
Ordering Information
LUER LOCK / UNCAPPED

Double bagged packaging

Part Code
Product Name
Size
Sterility
Sales Unit
XX3101BD
PharmaPack® BD syringe (LL)
1ml
Sterile
50 x 10 pcs
XX3103BD
PharmaPack® BD syringe (LL)
3ml
Sterile
50 x 10 pcs
XX3203BD
PharmaPack® BD syringe (LL)
3ml
Sterile
20 x 25 pcs
XX3503BD
PharmaPack® BD syringe (LL)
3ml
Sterile
10 x 50 pcs
XX3105BD
PharmaPack® BD syringe (LL)
5ml
Sterile
40 x 10 pcs
XX3205BD
PharmaPack® BD syringe (LL)
5ml
Sterile
16 x 25 pcs
XX3110BD
PharmaPack® BD syringe (LL)
10ml
Sterile
35 x 10 pcs
XX3120BD
PharmaPack® BD syringe (LL)
20ml
Sterile
10 x 10 pcs
XX3220BD
PharmaPack® BD syringe (LL)
20ml
Sterile
4 x 25 pcs
XX3130BD
PharmaPack® BD syringe (LL)
30ml
Sterile
10 x 10 pcs
XX3230BD
PharmaPack® BD syringe (LL)
30ml
Sterile
4 x 25 pcs
XX3150BD
PharmaPack® BD syringe (LL)
50ml
Sterile
5 x 10 pcs
XX3250BD
PharmaPack® BD syringe (LL)
50ml
Sterile
2 x 25 pcs
XX3350BD
PharmaPack® BD syringe (LL)
50ml
Sterile
5 x 25 pcs

Triple bagged packaging

Part Code
Product Name
Size
Sterility
Sales Unit
XXTB30501BD
PharmaPack® BD syringe (LL)
1ml
Sterile
50 x 5 pcs
XXTB30505BD
PharmaPack® BD syringe (LL)
5ml
Sterile
50 x 5 pcs
XXTB30510BD
PharmaPack® BD syringe (LL)
10ml
Sterile
40 x 5 pcs
XXTB3130BD
PharmaPack® BD syringe (LL)
30ml
Sterile
8 x 10 pcs
XXTB3150BD
PharmaPack® BD syringe (LL)
50ml
Sterile
4 x 10 pcs

LUER LOCK/ CAPPED

Double bagged packaging

Part Code
Product Name
Size
Sterility
Sales Unit
XX3101BDC
PharmaPack® BD syringe (LL)
1ml
Sterile
50 x 10 pcs
XX3103BDC
PharmaPack® BD syringe (LL)
3ml
Sterile
50 x 10 pcs
XX3203BDC
PharmaPack® BD syringe (LL)
3ml
Sterile
20 x 25 pcs
XX3105BDC
PharmaPack® BD syringe (LL)
5ml
Sterile
40 x 10 pcs
XX3205BDC
PharmaPack® BD syringe (LL)
5ml
Sterile
16 x 25 pcs
XX3110BDC
PharmaPack® BD syringe (LL)
10ml
Sterile
35 x 10 pcs
XX3120BDC
PharmaPack® BD syringe (LL)
20ml
Sterile
10 x 10 pcs
XX3220BDC
PharmaPack® BD syringe (LL)
20ml
Sterile
4 x 25 pcs
XX3130BDC
PharmaPack® BD syringe (LL)
30ml
Sterile
10 x 10 pcs
XX3150BDC
PharmaPack® BD syringe (LL)
50ml
Sterile
5 x 10 pcs
XX3250BDC
PharmaPack® BD syringe (LL)
50ml
Sterile
2 x 25 pcs

Triple bagged packaging

Part Code
Product Name
Size
Sterility
Sales Unit
XXTB30505BDC
PharmaPack® BD syringe (LL)
5ml
Sterile
50 x 5 pcs
XXTB30510BDC
PharmaPack® BD syringe (LL)
10ml
Sterile
40 x 5 pcs
XXTB3120BDC
PharmaPack® BD syringe (LL)
20ml
Sterile
8 x 10 pcs

LUER SLIP / UNCAPPED

Double bagged packaging

Part Code
Product Name
Size
Sterility
Sales Unit
XX3101BBLS
PharmaPack® BB syringe (LS) - green
1ml
Sterile
30 x 10 pcs
XX3101LS
PharmaPack® BD syringe (LS)
1ml
Sterile
20 x 25 pcs
XX3052BD
PharmaPack® BD syringe (LS)
2ml
Sterile
75 x 5 pcs

Helapet Syringe Caps

Available to purchase separately, our luer lock syringe caps are microbiologically and structurally integrity tested with our PharmaPack® sterile BD luer lock syringes, in accordance with the NHS Method Document: Protocols for the Integrity Testing of Devices

Part Code
Product Name
Size
Sterility
Sales Unit
IV2102
Combi-Cap Luer Lock Syringe Cap
1ml
Sterile
1,000 pcs/pck
IV5750R
Tamper Evident IV Syringe Cap
1ml
Sterile
10 x 10 pcs/pck
(Non-stock item)
PharmaPack® Integrated Blue Non-Vented Syringe Cap
Features and Benefits
Metric syringe graduation
Optimised pack quantities
Double or triple bagged
Low-lint packaging materials
Capped option to reduce contamination risk
Sterilised for use in Grade A environments
Downloads