Berner XP Spill Kits - Now gives you extra!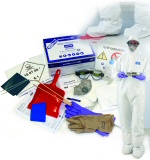 Helapet's new range of latex-free cytotoxic XP spill kits now offer you extra safety, extra comfort and extra piece of mind.
Berner cytotoxic XP spill kits represent the highest standard of safe cleaning and decontamination for wet and dry spills, using essential utensils packed in the order for which you need them.
Our new range of XP spill kits introduce Active Breath coveralls and overboots for enhanced protection and comfort from head to toe. Active Breath materials combine high permeable coating on the front with a breathable area on the back, using spray safe seams to maintain full compliance with European Standards.
New skin friendly vinyl overgloves provide excellent latex-free chemical resistance, with textured finger-tip and palm surfaces for improved grip.
Offered in a new range of multiple size options, there are now more choices to suite your coverall and glove size preference.
Continuing Helapet's commitment towards total user safety, we offer FREE training sessions on the proper use of all our spill kit products. Using interactive formats adapted to your department, Helapet spill kit training covers essential elements in spill control to guarantee complete confidence and peace of mind.
Learn more today about the new Berner XP Spill kit range and our FREE training sessions by calling 0800 0328 428 or visit our website www.helapet.co.uk
---
About Us / Helapet are a reputable manufacturer and distributor of high quality medical and cleanroom consumables, serving several core markets including pharmacy aseptic production, pharmaceutical manufacturing, laboratory and veterinary environments for over 30 years.
Established in 1984, Helapet delivers a diverse and innovative range of sterile and non-sterile products, supporting critical environment activities across all areas of aseptic manufacturing and healthcare provision.
We have four main areas of business:
Medical and Cleanroom Consumables
Contract Cleanroom Packaging and Liquid Filling
Cold Chain Solutions
Inline Disc Filters
All these areas are supported by our market leading customer service, providing exceptional one-to-one consultancy, advice and technical support.
Click here to view our Vision, Mission and Values statement.
Since 2002 Helapet has been a member of the respected CliniMed® (Holdings) Group.
Comprising of eight specialist companies, the CliniMed® Group are dedicated to supporting patient care through the supply of vital products into the healthcare industry.
Feb 2014