Helapet expands containment product solutions with new Cirrus Containments Isolators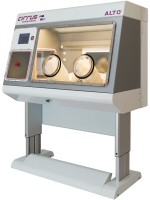 Celebrating 30 years as a leading supplier of cleanroom consumables and sterile in-line filter devices, Helapet Limited have entered into a new sales agreement with UK isolator manufacture Cirrus Containments. Enhancing Helapet's extensive product portfolio, clients are now offered a complete containment solution with new tailor designed isolator units.
Cirrus containments aseptic isolators create a reliable, ultra-sterile environment through the use of superior barrier isolation technology which provides unprecedented levels of protection for the product and the operator. Each isolator is purpose designed and built to meet the diverse requirements of isolator users including hospital pharmacy, pharmaceutical manufacturers and nuclear medicine.
Ergonomically designed to minimise space and modular constructed to meet the specific needs of the client, Cirrus Containments isolators maintain high standards of user safety whilst minimising the risk of fatigue or discomfort.
John Blight Managing Director comments - "The welcomed addition of Cirrus Containment Isolators to our ever growing line of specialist containment products, mean our customers can expect an increasingly comprehensive range of solutions to help reduce the risk of product and user contamination in the workplace."
For further information contact
info@helapet.co.uk
or call +44 (01582 501980).
---
About Us / Helapet are a reputable manufacturer and distributor of high quality medical and cleanroom consumables, serving several core markets including pharmacy aseptic production, pharmaceutical manufacturing, laboratory and veterinary environments for over 30 years.
Established in 1984, Helapet delivers a diverse and innovative range of sterile and non-sterile products, supporting critical environment activities across all areas of aseptic manufacturing and healthcare provision.
We have four main areas of business:
Medical and Cleanroom Consumables
Contract Cleanroom Packaging and Liquid Filling
Cold Chain Solutions
Inline Disc Filters
All these areas are supported by our market leading customer service, providing exceptional one-to-one consultancy, advice and technical support.
Click here to view our Vision, Mission and Values statement.
Since 2002 Helapet has been a member of the respected CliniMed® (Holdings) Group.
Comprising of eight specialist companies, the CliniMed® Group are dedicated to supporting patient care through the supply of vital products into the healthcare industry.
Apr 2014