Helapet Launch new Veterinary Supplies Catalogue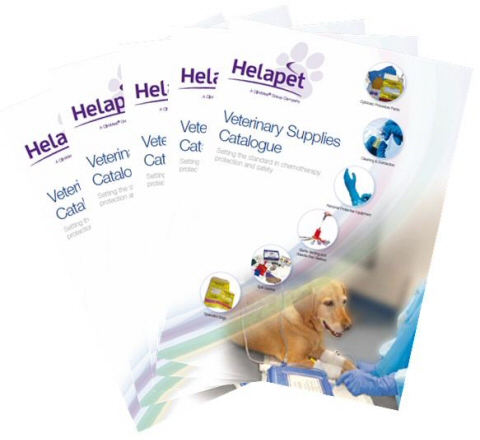 Supporting Vet professionals in choosing the correct type of protective equipment when handling cytotoxic solutions, Helapet are delighted to launch our new dedicated Veterinary Supplies Catalogue.
Recognising the protective needs of Vet professionals who are increasingly required to handle potent drugs for chemotherapy treatments, our Veterinary Supplies Catalogue offers a handy guide for locating suitable protective consumables which can reduce the risk of exposure from spills, splashes and aerosol's.
Available in hard-copy and online, each product section is colour coded to match the relevant categories on our website. A handy guide on the common routes of cytotoxic exposure is also provided.
With over 30 years' experience, Helapet are dedicated in supplying safety consumables, in response to the growing use of chemotherapy and associated risks of exposure in the workplace.
Click here to download a copy
or request your FREE catalogue now by emailing
info@helapet.co.uk
---
About Us / Helapet are a reputable manufacturer and distributor of high quality medical and cleanroom consumables, serving several core markets including pharmacy aseptic production, pharmaceutical manufacturing, laboratory and veterinary environments for over 30 years.
Established in 1984, Helapet delivers a diverse and innovative range of sterile and non-sterile products, supporting critical environment activities across all areas of aseptic manufacturing and healthcare provision.
We have four main areas of business:
Medical and Cleanroom Consumables
Contract Cleanroom Packaging and Liquid Filling
Cold Chain Solutions
Inline Disc Filters
All these areas are supported by our market leading customer service, providing exceptional one-to-one consultancy, advice and technical support.
Click here to view our Vision, Mission and Values statement.
Since 2002 Helapet has been a member of the respected CliniMed® (Holdings) Group.
Comprising of eight specialist companies, the CliniMed® Group are dedicated to supporting patient care through the supply of vital products into the healthcare industry.
Feb 2015