New Helapet Porter brochures... hot off the press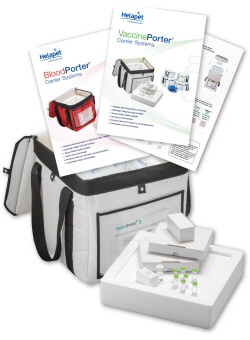 It's here... The latest edition of our VaccinePorter® and BloodPorter® carrier brochures, now available in print and on digital download.
Both four page brochures provide an easy overview of our Porter carrier systems, designed for the safe transportation of temperature controlled products including Vaccines, Red Blood Cells and Platelets.
Choose the correct Porter size for your application by using the internal and external dimension information detailed inside. You can even tailor design your carriers by choosing from a range of colour options and bespoke branding.
Did you know that Helapet also offer temperature controlled carriers for TPN bags and Human Plasma too?
For additional customer service and technical support, full contact details are included in the brochure. Request your preferred Porter brochure by emailing us at sales@helapet.co.uk or contact us directly on (0)800 0328 428.
---
About Us / Helapet are a reputable manufacturer and distributor of high quality medical and cleanroom consumables, serving several core markets including pharmacy aseptic production, pharmaceutical manufacturing, laboratory and veterinary environments for over 30 years.
Established in 1984, Helapet delivers a diverse and innovative range of sterile and non-sterile products, supporting critical environment activities across all areas of aseptic manufacturing and healthcare provision.
We have four main areas of business:
Medical and Cleanroom Consumables
Contract Cleanroom Packaging and Liquid Filling
Cold Chain Solutions
Inline Disc Filters
All these areas are supported by our market leading customer service, providing exceptional one-to-one consultancy, advice and technical support.
Click here to view our Vision, Mission and Values statement.
Since 2002 Helapet has been a member of the respected CliniMed® (Holdings) Group.
Comprising of eight specialist companies, the CliniMed® Group are dedicated to supporting patient care through the supply of vital products into the healthcare industry.
Jun 2016