New 2019-20 Product Catalogue available now!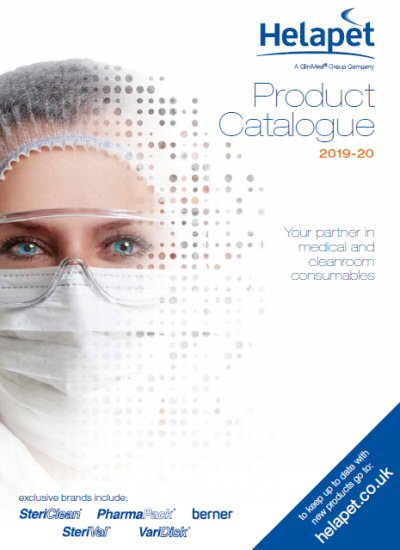 It's here! We are excited to announce the release of our 2019-20 Product Catalogue. Our focus continues to be on improving customer experience and accessibility to our growing portfolio of cleanroom consumables and disposable inline disc filters. Our 52 page edition incorporates updated high quality visuals, content and navigation tools to support your purchasing needs.
Colour-coded sections (i.e. for Cleaning and Disinfection products, think pink) combined with a handy new product code guide enables clients to precisely access specific products they'd like to order.
What's new this year?
New introductory section explaining more about our company, our values and why we should be your first choice in cleanroom consumables and inline disc filters.
Improved access and usability with a new product code guide for quicker navigation, valuable links to downloadable instructions and "how-to" guides. Plus a complimentary free sample order request form, making it easier for you to "try before you buy"!
We've refreshed our new edition with updated professional imagery and content, including the latest testimonials from our valued clients.
This year we want to highlight our exclusive Helapet brands:

SteriClean® | PharmaPack® | Berner | Vari-Disk®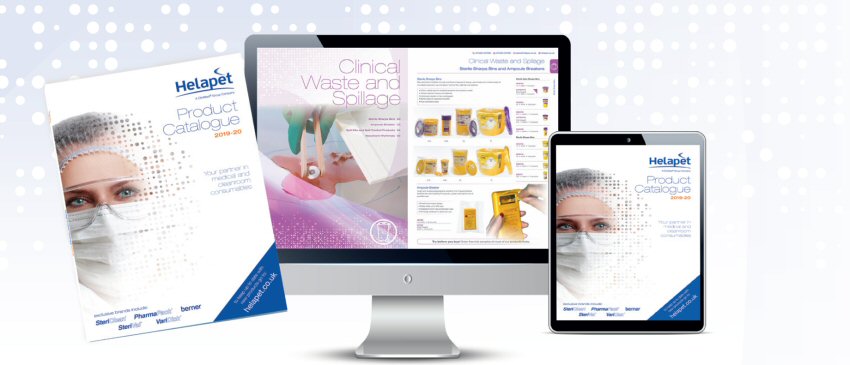 We continue to develop our unique brands, offering our clients innovative, top quality products at competitive prices.
With a new product catalogue comes brand new Helapet products, so what do we have for you to kick-off 2019?

NEW Sterile Single Use Goggles
Provides effective eye protection and comfort in controlled environments. 100% latex-free for assured use by allergy suffers.

NEW Cyto Sterile Sharps Bin 7L, Triple bagged
Helps facilitate the safe and efficient disposal of sharps in isolators and cleanrooms. Now triple polybagged and terminally sterilised, saving time and expense during aseptic transfer.

NEW Berner ChemoSorb Pad
Safely absorbs and contains up to 3L of hazardous chemicals including cytotoxics, converting the liquid into a gel substance allowing for safe and easy disposal.

Remember to visit our website (helapet.co.uk) for further useful information and new product introductions throughout the year.
Request your physical copy today by emailing sales@helapet.co.uk or download for free from our website.
---
About Us / Helapet are a reputable manufacturer and distributor of high quality medical and cleanroom consumables, serving several core markets including pharmacy aseptic production, pharmaceutical manufacturing, laboratory and veterinary environments for over 30 years.
Established in 1984, Helapet delivers a diverse and innovative range of sterile and non-sterile products, supporting critical environment activities across all areas of aseptic manufacturing and healthcare provision.
We have four main areas of business:
Medical and Cleanroom Consumables
Contract Cleanroom Packaging and Liquid Filling
Cold Chain Solutions
Inline Disc Filters
All these areas are supported by our market leading customer service, providing exceptional one-to-one consultancy, advice and technical support.
Click here to view our Vision, Mission and Values statement.
Since 2002 Helapet has been a member of the respected CliniMed® (Holdings) Group.
Comprising of eight specialist companies, the CliniMed® Group are dedicated to supporting patient care through the supply of vital products into the healthcare industry.
Feb 2019