Helapet achieves Investors In People - Gold accreditation
Helapet Limited, Bedfordshire based manufacturer and distributor of high quality medical and cleanroom consumables are delighted to be recently awarded the coveted Investors in People 'We invest in people, gold accreditation'.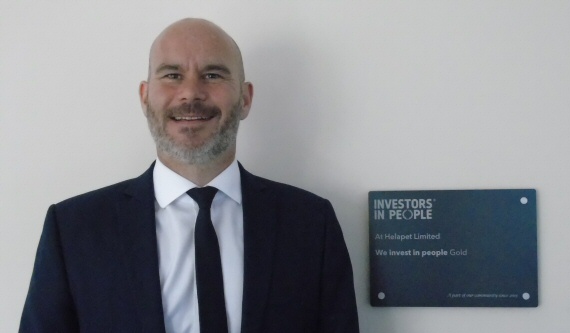 Gold accreditation means that not only have Helapet Ltd put excellent policies in place, but more importantly, it means everyone - throughout the organisation - takes ownership for making them come to life. This award is a hard-won achievement - only 17% of Investors in People accredited organisations achieve Gold and Helapet have been able to reach this level only 3 years after achieving the Silver accreditation from Investors in People.
Helapet prides itself on its excellent customer service, its dedicated staff and most recently its recent role in supporting the NHS in tackling the Covid 19 pandemic. Investors in People have noted that this pride is palpable within every individual. Helapet staff have a great respect for the company's leaders and the open and transparent way in which the company is run, which is vital to a happy and productive team.
According to The Investors in People team, everyone at Helapet shares the vision and values of the organisation, something the management team strive to keep in everyone's minds. Everyone is absolutely committed to the company mission and capable in taking the company forward to meet its goals. Helapet's people work well together and take personal responsibility for their contributions. This has been invaluable in the company achieving the levels of success it has in recent years, including remaining fully operational during the last year of disruption due to the Covid 19 pandemic.
Paul Devoy, CEO of Investors in People, said: "We'd like to congratulate Helapet. Gold accreditation on 'We invest in people' is a fantastic effort for any organisation, and places Helapet in fine company with a host of organisations that understand the value of people."
Commenting on the award, Ben Miles, Managing Director of Helapet, said: "I am delighted that Helapet have been awarded Investors in People Gold, a continuous improvement following our Silver award in 2018. This achievement positively reflects our values, culture and the approach we have when working with our colleagues and customers. Our mission, vision and values are at the heart of everything we do. All staff should be congratulated and hopefully take great satisfaction in the improvements we have made together."
Both Helapet and Investors in People believe that the success of an organisation begins and ends with people. 'If we make work better for everyone, we make work better for every organisation. And if we do that... we make society stronger, healthier and happier.'
ENDS
About Helapet Limited - Helapet are a reputable manufacturer and distributor of high quality medical and cleanroom consumables, serving several core markets including pharmacy aseptic production, pharmaceutical manufacturing, laboratory, industrial and veterinary environments for over 30 years.
Established in 1984, Helapet delivers a diverse and innovative range of sterile and non-sterile products, supporting critical environment activities across all areas of aseptic manufacturing and healthcare provision.
Helapet are proud to serve an ever increasing number of industries in the UK and globally. We use our experience and customer relationships to understand ever changing market demands, producing suitable product solutions in accordance with our client expectations:
Helapet offer unrivalled quality in the design and manufacture of our inline disc filters, both as off-the-shelf products or custom made specials. We supply filters for OEM and end-user applications in a wide range of markets including pharmaceutical, environmental monitoring, print, food and drink and electronics. Helapet strive to introduce added value to our filtration products, using consultancy based manufacturing and comprehensive testing to meet customer expectations.
We have four main areas of business:
Inline Disc Filters
Medical and Cleanroom Consumables
Contract Cleanroom Packaging and Liquid Filling
Cold Chain Solutions
All these areas are supported by our market leading customer service, providing exceptional one-to-one consultancy, advice and technical support.
Click here to view our Vision, Mission and Values statement.
About Investors in People
Most of us will spend around 80,000 hours at work in our lifetimes.
For something that takes up that much of our time, we think people deserve to get more out of it than just a regular pay cheque.
That's why we've already helped more than 11 million people across 75 countries to make work better.
And you know what, we're just getting started...
How are we doing that?
We're a community interest company, which means we put our purpose before our profits. That means everything we do and every direction we take is done to make work better.
Organisations that meet the We invest in our people framework are proud to display their accreditation to the world.
Because they understand that it's people that make work better.
Got some questions about the press release? Then speak to a real person: contact Chris Steng on info@helapet.co.uk
Jul 2021