New, improved 20mm Vented Vial Adapter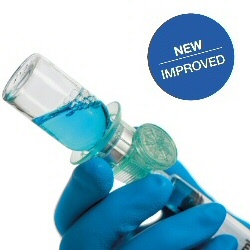 Our new enhanced Vented Vial Adapter introduces a larger integrated air filter, providing rapid and reliable equalisation of pressure within a vial. Increased flowrate performance provides effortless and reliable drug withdrawal saving on preparation time.
Our new Vented Vial Adapter retains the unique benefits of the original with stable, needle-free access to standard drug vials, whilst preventing exposure to cytotoxic contamination. The low profile design minimises priming volume for accurate dosing, and the irremovable skirt design provides added security.
Order your free samples of our new Vented Vial Adapter online, or contact us direct on (0)800 0328 428.
---
About Us / Helapet are a reputable manufacturer and distributor of high quality medical and cleanroom consumables, serving several core markets including pharmacy aseptic production, pharmaceutical manufacturing, laboratory and veterinary environments for over 30 years.
Established in 1984, Helapet delivers a diverse and innovative range of sterile and non-sterile products, supporting critical environment activities across all areas of aseptic manufacturing and healthcare provision.
We have four main areas of business:
Medical and Cleanroom Consumables
Contract Cleanroom Packaging and Liquid Filling
Cold Chain Solutions
Inline Disc Filters
All these areas are supported by our market leading customer service, providing exceptional one-to-one consultancy, advice and technical support.
Click here to view our Vision, Mission and Values statement.
Since 2002 Helapet has been a member of the respected CliniMed® (Holdings) Group.
Comprising of eight specialist companies, the CliniMed® Group are dedicated to supporting patient care through the supply of vital products into the healthcare industry.
Mar 2016