New, improved 20mm Vented Vial Adapter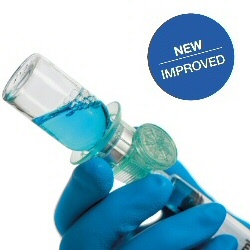 Our new enhanced Vented Vial Adapter introduces a larger integrated air filter, providing rapid and reliable equalisation of pressure within a vial. Increased flowrate performance provides effortless and reliable drug withdrawal saving on preparation time.
Our new Vented Vial Adapter retains the unique benefits of the original with stable, needle-free access to standard drug vials, whilst preventing exposure to cytotoxic contamination. The low profile design minimises priming volume for accurate dosing, and the irremovable skirt design provides added security.
Order your free samples of our new Vented Vial Adapter online, or contact us direct on (0)800 0328 428.
Mar 2016