NOTICE - PPE Sales
Helapet supply specialist PPE for use within cleanroom environments in the production of chemotherapy drugs and other medication. Due to the very limited global availability of PPE products priority will be given to our existing NHS customers and commercial partners when items are in stock.
We are unable to process orders for use by non-commercial organisations.
BioClean™ Emerald Underglove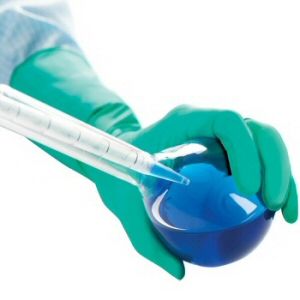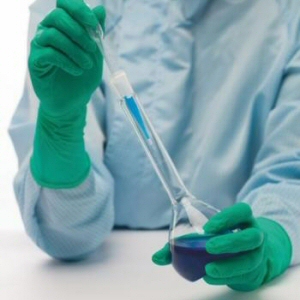 Description
The BioClean™ Emerald Underglove is a highly versatile latex-free glove, that can be worn individually or provide enhance chemical protection when worn with other cleanroom gloves.
Compliant to EN ISO 374 and ASTM D 6978 standard, the BioClean™ Emerald maintains exceptional grip and sensitivity when handling products and devices. A long 300mm cuff grants secure protection above the wrist and the smooth nitrile material allows for easy double-donning.
Presented sterile and sealed in an EasyTear PE pouch, BioClean™ Emerald Undergloves are compatible up to ISO Class 4 & EU GMP Grade A operating conditions.
Available in a range of sizes, each pair is supplied cleanroom processed, sterile in paper-free PE packaging.
Ordering Information
| Part Code | Product Name | Size | Sterility | Sales Unit |
| --- | --- | --- | --- | --- |
| GU1060 | BioClean™ Emerald Underglove | 6 | sterile | 50 pairs/pck |
| GU1065 | BioClean™ Emerald Underglove | 6.5 | sterile | 50 pairs/pck |
| GU1070 | BioClean™ Emerald Underglove | 7 | sterile | 50 pairs/pck |
| GU1075 | BioClean™ Emerald Underglove | 7.5 | sterile | 50 pairs/pck |
| GU1080 | BioClean™ Emerald Underglove | 8 | sterile | 50 pairs/pck |
| GU1085 | BioClean™ Emerald Underglove | 8.5 | sterile | 50 pairs/pck |
| GU1090 | BioClean™ Emerald Underglove | 9 | sterile | 50 pairs/pck |
Features and Benefits
Double donnable
Compatible up to ISO Class 4 & EU GMP Grade A
Latex free and hypoallergenic
Chemical resistant to EN ISO 374 and ASTM D6978 standards
Non-particulating EasyTear packaging
Downloads