BioClean™ Emerald Underglove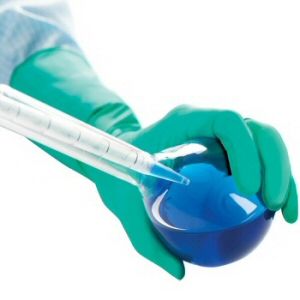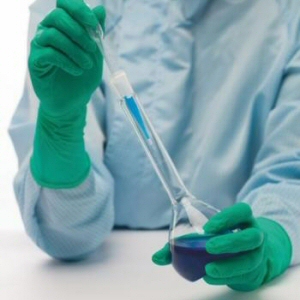 Description
The BioClean™ Emerald Underglove is a highly versatile latex-free glove, that can be worn individually or provide enhance chemical protection when worn with other cleanroom gloves.
Compliant to EN ISO 374 and ASTM D 6978 standard, the BioClean™ Emerald maintains exceptional grip and sensitivity when handling products and devices. A long 300mm cuff grants secure protection above the wrist and the smooth nitrile material allows for easy double-donning.
Presented sterile and sealed in an EasyTear PE pouch, BioClean™ Emerald Undergloves are compatible up to ISO Class 4 & EU GMP Grade A operating conditions.
Available in a range of sizes, each pair is supplied cleanroom processed, sterile in paper-free PE packaging.
Ordering Information
| Part Code | Product Name | Size | Sterility | Sales Unit |
| --- | --- | --- | --- | --- |
| GU1060 | BioClean™ Emerald Underglove | 6 | sterile | 50 pairs/pck |
| GU1065 | BioClean™ Emerald Underglove | 6.5 | sterile | 50 pairs/pck |
| GU1070 | BioClean™ Emerald Underglove | 7 | sterile | 50 pairs/pck |
| GU1075 | BioClean™ Emerald Underglove | 7.5 | sterile | 50 pairs/pck |
| GU1080 | BioClean™ Emerald Underglove | 8 | sterile | 50 pairs/pck |
| GU1085 | BioClean™ Emerald Underglove | 8.5 | sterile | 50 pairs/pck |
| GU1090 | BioClean™ Emerald Underglove | 9 | sterile | 50 pairs/pck |
Features and Benefits
Double donnable
Compatible up to ISO Class 4 & EU GMP Grade A
Latex free and hypoallergenic
Chemical resistant to EN ISO 374 and ASTM D6978 standards
Non-particulating EasyTear packaging
Downloads