UV Light Inhibiting Amber Bags
Sealable/ Resealable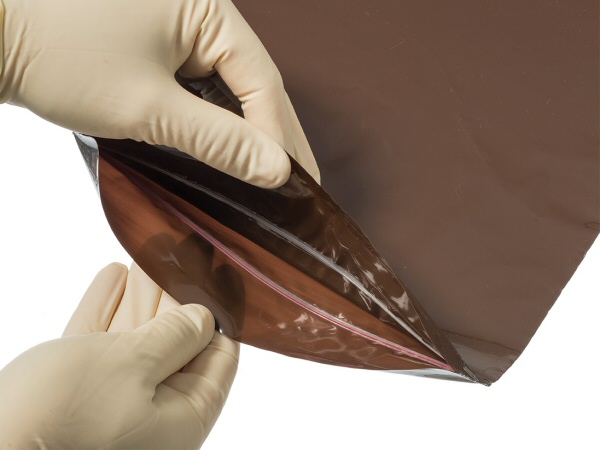 Description
Certain medications, antibiotics and compounded chemotherapy products, need to be stored and transported in light inhibiting amber bags that restrict exposure of the product to light. Such light sensitive medications can become toxic and harmful for administration should sub-standard packaging be utilised.
Helapet amber bags are fully certified to Pharmacopoeia standards restricting the amount of observed light passing through the bag, not exceeding 10% threshold at any wavelength in the range of 290nm to 450nm.
Offering exceptional protection for any healthcare application, Helapet amber bags are available to in a range of sizes ideal for IV Bag covers, secure transfer of syringes and storage of chemotherapy medications.
Helapet amber bags can be securely sealed and used, protecting the critical integrity of the light sensitive products and eliminating the risk of UV exposure.
With full technical specifications and supporting certification, our Amber bags are fully LOT traceable.
Order your free samples today and see how our Helapet amber bags can improve confidence in the storage of and transportation of light sensitive solutions.
Ordering Information
| Part Number | Size | Gauge | Format | Sterility | Sales Unit |
| --- | --- | --- | --- | --- | --- |
| PB0208 | W152 x L203mm | 250g | Re-sealable | non-sterile | 1000 pcs/pck |
| PB0214 | W203 x L355mm | 250g | Re-sealable | non-sterile | 1000 pcs/pck |
| PB2012 | W318 x L510mm + 36mm flap | 200g | Sealable | non-sterile | 500 pcs/pck |
Features and Benefits
Conforms to Pharmacopoeia standards
Re-sealable or non re-sealable options
Multiple size options
Full LOT traceability
Downloads