Timestrip® PLUS™ +8°C - Temperature Breach Indicator
Timestrip PLUS - Activate
Timestrip PLUS - Breached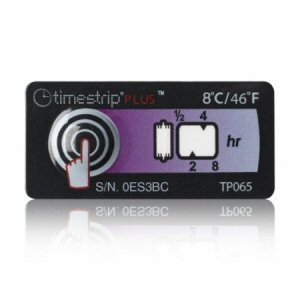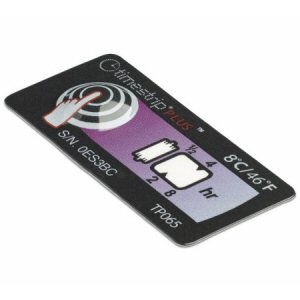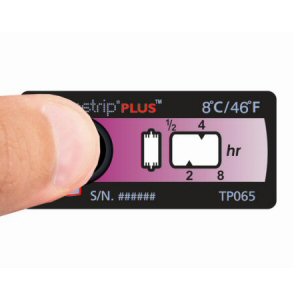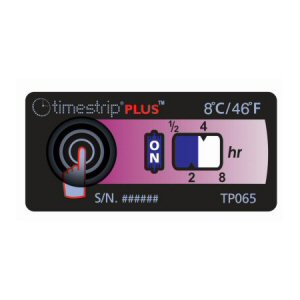 Description
Timestrip Plus™ Timestrip® PLUS™ is a cost effective single-use indicator, design to register temperature breaches above +8°C.
Ideal for cold chain monitoring requirements, Timestrip® PLUS™ provides immediate indication of a temperature breach, using a period window to show the total duration of breach during transportation. Ideal for storage and distribution activities that require below +8°C threshold, Timestrip® PLUS™ can support thermal transportation of vaccines, TPN, cytotoxics, insulin, antibiotics and other temperature sensitive products.
Small and compact with an adhesive back, Timestrip® PLUS™ can be securely applied to different types of product. The indication window is easy and simple to understand and activation begins with a simple squeeze of the blister. As long as the transported product is held at, or under the temperature threshold the period window will remain white, changing to blue only once a temperature breach has occurred.
Timestrip® PLUS™ offers essential support for accurate monitoring of both large and small cold chain logistic operations.
Ordering Information
| Part Code | Product Name | Size | Sterility | Sales Unit |
| --- | --- | --- | --- | --- |
| TP065 | Timestrip® PLUS +8°C | 19mm x 40mm | non-sterile | 100 pcs/pck |
Features and Benefits
Accurate temperature monitoring
Simple to activate and apply
Easy visualisation of temperature breach information
Water resistant
Environmentally friendly
Downloads
Video