NOTICE - PPE Sales
Helapet supply specialist PPE for use within cleanroom environments in the production of chemotherapy drugs and other medication. Due to the very limited global availability of PPE products priority will be given to our existing NHS customers and commercial partners when items are in stock.
We are unable to process orders for use by non-commercial organisations.
Tyvek® All-in-one Suit

Sterile and non-sterile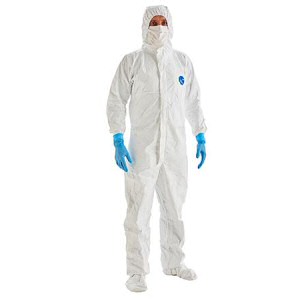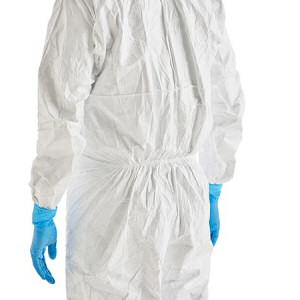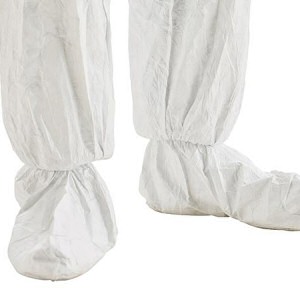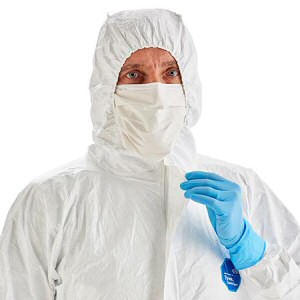 Description
Helapet offer our single-use Tyvek® All-in-one Suit for total body, head and foot coverage in high and low level cleanrooms.
Each suit offers superior levels of protection against liquids, chemical splashes and dry particles. Low-linting and abrasion resistant makes this suit ideal for robust use in controlled environments, whilst offering excellent breathability and comfort over long periods.
Available in a comprehensive range of sizes, the Tyvek® All-in-one Suit comes with an elasticated hood, cuffs and waist for optimum fit. A zip front closure with covering flap provides additional protection against snagging and possible contamination.
Helapet offer this product non-sterile or double-bagged and terminally sterilised for higher grade cleanroom requirements.
Ordering Information
| Part Code | Product Name | Size | Sterile | Sales Unit |
| --- | --- | --- | --- | --- |
| AT0110 | Tyvek® All-in-one Suit | Small | non-sterile | 25 pcs/pck |
| AT0120 | Tyvek® All-in-one Suit | Medium | non-sterile | 25 pcs/pck |
| AT0130 | Tyvek® All-in-one Suit | Large | non-sterile | 25 pcs/pck |
| AT0140 | Tyvek® All-in-one Suit | X Large | non-sterile | 25 pcs/pck |
| AT0150 | Tyvek® All-in-one Suit | XX Large | non-sterile | 25 pcs/pck |
| XX0110 | Tyvek® All-in-one Suit | Small | sterile | 10 pcs/pck |
| XX0120 | Tyvek® All-in-one Suit | Medium | sterile | 10 pcs/pck |
| XX0130 | Tyvek® All-in-one Suit | Large | sterile | 10 pcs/pck |
| XX0140 | Tyvek® All-in-one Suit | X Large | sterile | 10 pcs/pck |
| XX0150 | Tyvek® All-in-one Suit | XX Large | sterile | 10 pcs/pck |
Features and Benefits
Category III protective clothing
Includes hood and overshoe protection
Zip front closure with covering flap
Low particle shedding
Available sterile and non-sterile
Downloads