SteriClean® Dry Wipes

Sterile and non-sterile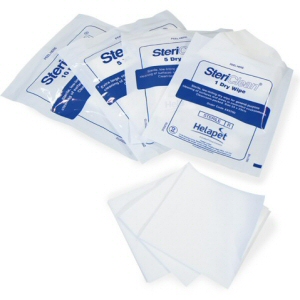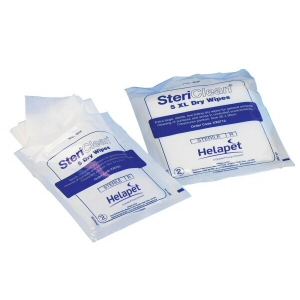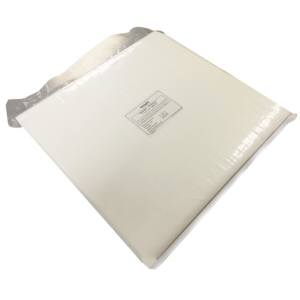 Description
SteriClean® Dry Wipes are made from polyester/cellulose bonded fibres which form an extremely robust and absorbent material.
Low linting with low extractables, SteriClean® Dry Wipes are supplied ready folded in alcohol resistant paper free packaging and irradiated at not less than 25 kGy making them an ideal choice for ISO class 5 cleanrooms.
Helapet supply a larger 30cm x 30cm wipe, ideal for economical cleaning of larger surface areas with fewer wipes.
Available in several packaging configurations from individually packaged to economic multi-packs, all batches are cleanroom processed with lot traceability.
Ordering Information
| Part Code | Product Name | Size | Sterility | Sales Unit |
| --- | --- | --- | --- | --- |
| XX6700 | SteriClean® Single Pack Dry Wipe | 23 x 23cm | sterile | 300 x 1 pc/pck |
| XX6705 | SteriClean® 5 Pack Dry Wipe | 23 x 23cm | sterile | 60 x 5 pcs/pck |
| XX6710 | SteriClean® 10 pack dry wipe | 23 x 23cm | sterile | 30 x 10 pcs/pck |
| WN6709 | SteriClean® Dry Wipes | 23 x 23cm | non-sterile | 300 pcs/pck |
| XX6709 | SteriClean® (Bulk Pack) Dry Wipes | 23 x 23cm | sterile | 3 x 300pcs/pck |
| XX6712 | SteriClean® XL 5 Pack Dry Wipes | 30 x 30cm | sterile | 60 x 5 pcs/pck |
| XX6769 | SteriClean® XL Dry Wipes | 30 x 30cm | sterile | 10 x 50 pcs/pck |
| WN6712 | SteriClean® XL Dry Wipes | 30 x 30cm | non-sterile | 150 pcs/pck |
Features and Benefits
68gsm polyester / cellulose material
Absorbent, low linting with low extractables
Two wipe size options
Ready folded and processed in ISO Class 8 cleanroom
Packed in alcohol resistant paper
Sterile and non-sterile presentations
Downloads