Helapet MiniPorter™ Carrier
Vaccine MiniPorter Replacement Pack - VPI011
Blood MiniPorter Replacement Pack - BPI011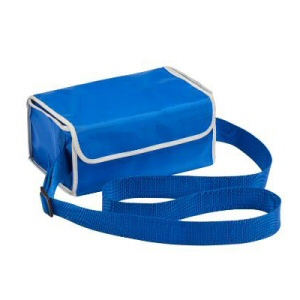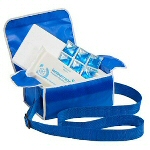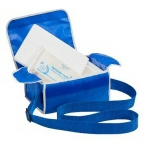 Description
The ideal solution for transporting temperature sensitive samples, the Helapet MiniPorter™ is validated to securely transport a variety of temperature controlled products including vaccines and blood units.
Using fully replaceable components, the MiniPorter™ Carrier System can maintain the desired temperature threshold and provide effective thermal protection in variable weather conditions.
The robust outer bag incorporates a secure Velcro® fastening and a long shoulder strap. Available in blue, a clear PVC window allows instructions and important information to be inserted and visible to users.
The included MediCool® cool pack is used to maintain the internal temperature and can be frozen for vaccine transportation and chilled for blood transportation. Instructions for use are provided with each MiniPorter™ Carrier.
All Blood and Vaccine MiniPorter™ systems are validated with test documentation available on request. Helapet also provide expert advice and information on the proper use of all our temperature controlled carrier products.
Ordering Information
Part Code
Product Name
Size
Sterility
Sales Unit
VPM011
Vaccine MiniPorter™

Includes 1 x Medicool® 11 and Medimat

260 x 179 x 131mm
non-sterile
1 pc/pck
VPI011
Refurbishment Pack Vaccine MiniPorter™
Includes replacement inner, 1 x Medicool® 11 and Medimat
Exclusive to Vaccine MiniPorter™
non-sterile
1 pc/pck
BPM011
Blood MiniPorter™
Includes 1 x Medicool® 11
260 x 179 x 131mm
non-sterile
1 pc/pck
BPI011
Refurbishment Pack Blood MiniPorter™
Includes replacement inner and 1 x Medicool® 11
Exclusive to Blood MiniPorter™
non-sterile
1pc/pck
Features and Benefits
Validated temperature control
Includes cool pack
Secure Velcro® fastening
Clear PVC Window for inserting delivery data
Long over-the-shoulder strap
Downloads
Accessories