Veterinary Adhesive Remover Spray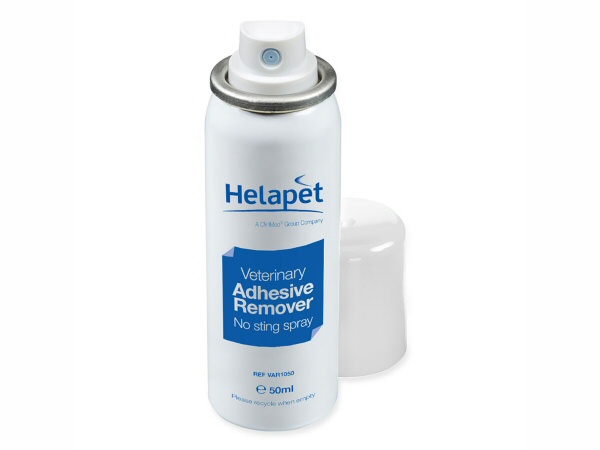 Description
Gentle, pain-free removal of wound dressings within seconds
Helapet Veterinary Adhesive Remover Spray is our ready-to-use solution for the quick, no-sting removal of wound dressings and medical devices using skin adhesives.
Repeated skin-stripping can progressively reduce the skin's integrity, especially sensitive areas that can result in unpleasant inflammation and irritation. This may lead animals to constantly bite and scratch resulting in more serious infections, impeding the healing process.
Helapet Veterinary Adhesive Remover spray grants comfortable, cold-free application to the skin reducing the risk of animal movement. Integrated "bag-on-valve" technology improves usability with quiet dispensing of the aerosol in any direction, preventing unnecessary stress to the animal during application.
Simple, pain-free removal is achieved by spraying around the edge of the adhesive and waiting just a few seconds before gently peeling back. The quick-drying formula leaves no residue that could compromise adhesion of replacement dressings, tape or medical devices, supporting quality care and reducing wound exposure.
Our innovative "bag-on-valve" technology delivers
Immediate use with no need to shake the can
Quiet spray reducing risk of animal stress
Consistent 360° spray distribution
100% dispensing of solution reducing wastage
Ordering Information
| Part Code | Product Name | Size | Sterility | Sales Unit |
| --- | --- | --- | --- | --- |
| VAR1050 | Veterinary Adhesive Remover Spray | 50ml | non-sterile | 12 pcs/pck |
Features and Benefits
Quick, no-sting removal of adhesive based dressings from skin, hair and fur
Comfortable no-cold sensation when applied
Reduced skin trauma and risk of infection resulting from animal bites and scratching
Does not compromise adhesion once evaporated, allowing for precise repositioning or application of new dressings
Downloads
Video