SteriClean® Aerosol Hand Sanitiser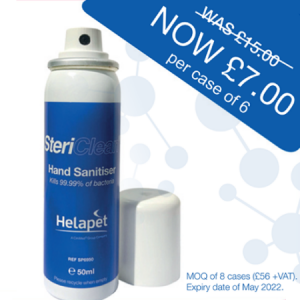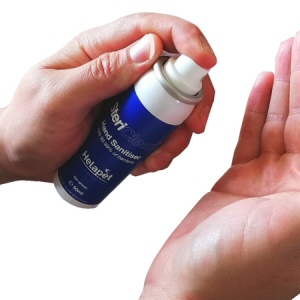 Description
This convenient pocket sized 50ml hand sanitiser delivers an aerosol of 70% ethanol to the skin. The formulation has been proved to kill 99.99% of bacteria in accordance with EN13727 and 99.99% of yeasts and moulds in accordance with EN13624. These standards meet the performance criteria for medical hand sanitisers.
Trace amounts of glycerine enable distribution of the alcohol across the skin of the hands and wrists prior to evaporation.
Offer
Hand Sanitisers at £7.00 per case of 6 cans. MOQ of 8 cases (£56 +VAT).
Shelf life May 2022
Ordering Information
| Part Code | Product Name | Size | Sterility | Sales Unit |
| --- | --- | --- | --- | --- |
| SP6950 | SteriClean® 50ml Hand Sanitiser | 50ml | Non sterile | 6 Cans per Case |
Features and Benefits
Peace of mind - validated to EN13727 / EN13624
Light weight aerosol can
Cost effective - 50ml can
Compact fitting into pockets of uniforms, gowns and bags
Downloads