News
14
Featured Blog
Nov 2017 - Holidays are coming...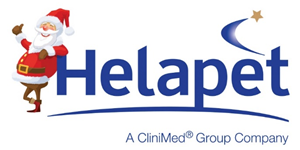 Believe it or not the Christmas holidays are fast approaching and we would like to inform our customers of our scheduled shutdown period over the Christmas and New Year holidays.
Our operations will close from Friday 22nd December and will reopen on Tuesday, 2nd January.
Click here to view our order and delivery schedule for December 2017
We want to ensure all your urgent orders are fulfilled, so please send requests to us as soon as possible. For information on order and delivery times for countries outside of the UK, email us at sales@helapet.co.uk.
Keep up-to-date with Helapet news in 2018 by connecting with us via LinkedIn or Twitter, or why not sign-up to receive our quarterly newsletter!
Please note: These dates are subject to stock availability.
Oct 2017 - Going digital with our latest newsletter - Issue 10
Hot off of the "digital" press... Helapet welcome you to issue 10 of the Helapet newsletter, available now for digital download.
Our latest issue takes us to the end of 2017 and includes news about our Christmas Shutdown, all new triple bagged individual wipes and the reintroduction of our Medicool® cool packs, back and cooler than ever! Further interesting reads include details on work towards ISO 13485:2016 and an introduction to Tiffany Hussain, new account manager for our bespoke inline Filter Devices.
We hope you find our bitesize newsletter updates interesting and thank you for sparing your valuable time to read up on our most recent developments.
Click here to download Issue 10, or request a physical copy by enquiring online.
Why not subscribe today to be part of our newsletter mailing list and receive regular updates of Helapet news and campaigns.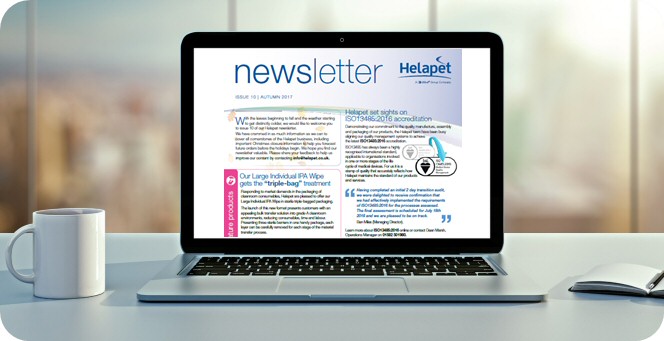 Featured Blog
Sep 2017 - Introducing Tiffany Hussain, our new Account Manager for Filtration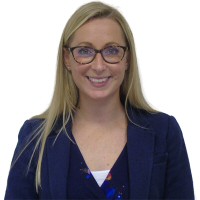 Please join us in welcoming Tiffany Hussain, our new Account Manager and primary point of contact for our Filter Devices range
Tiffany joins us from Sartorius, bringing with her over five years of valuable filtration experience. Tiffany will immediately start implementing new ideas and services using her specialist experience and knowledge of medical and biomedical sciences industries.
"I am excited to take on my new role. With my key knowledge in filtration, I look forward to meeting our diverse customer base as well as discovering new ways in which we can help our future filtration business." says Tiffany.
If you have any questions, comments, or new projects related to filters please feel free to contact Tiffany direct, or why not discuss in person with an introductory meeting. Call today on +44 (0)7425 862413 or email tiffanyh@helapet.co.uk
Click here to learn more about our range of in-line disc filters and our VariDisk® custom design and consultancy service.

Featured Blog
Jul 2017 - Sponsoring the Katherine Miles Poster Competition at the APTUK in Wales
Noddi Cystadleuaeth Poster Katherine Miles yn y APTUK yng Nghymru
This year the Association of Pharmacy Technicians UK (APTUK) brought together over 200 professionals to exchange ideas, learn and debate the hottest topics surrounding current practice. This year the Association of Pharmacy Technicians UK conference was held in Cardiff, Wales, resulting in one of their highest ever turnouts. Run by pharmacy technicians for pharmacy technicians, the APTUK continues to provide essential support in training and development needs.
Helapet were once again delighted to be a corporate sponsor and present at the Kathrine Miles Poster Competition award ceremony. The Kathrine Miles Poster Competition helps to support creative thinking, using posters to illustrate latest research, generate new and valuable ideas and share best practice with fellow colleagues.
A big congratulations to Gemma Purver of East Kent Hospitals University Foundation Trust who became the official winner of the 2017 Katherine Miles poster competition. Her poster on "Pilot Project of Pharmacy Staff in the Emergency Department" secured her a cash prize of £250 and her name on the board of first place poster winners.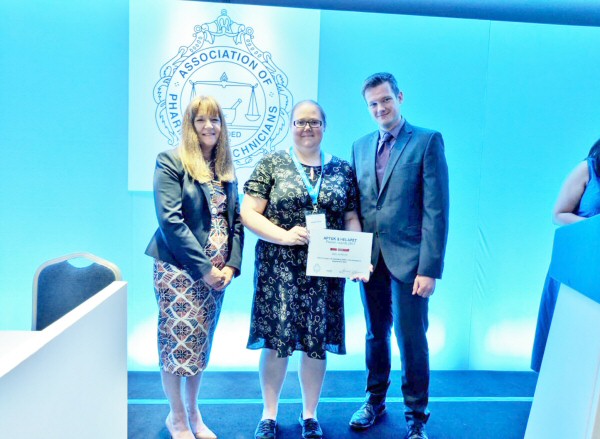 Gemma Purver receiving 1st place alongside Tess Fenn, APTUK and Chris Steng, Helapet Ltd
East Kent Hospital NHS Foundation Trust
Well done to the runners up. Second place went to Karen Manson and Olivia Palfreyman of Sheffield Clinical Commissioning Group for their informative poster Innovation in prescription ordering for patients.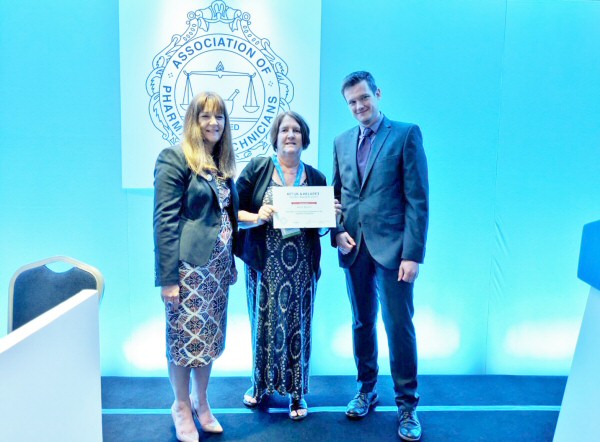 Karen Manson receiving 2nd place alongside Tess Fenn, APTUK and Chris Steng, Helapet Ltd
Sheffield Clinical Commissioning Group
The third (and by no means least) place prize went to Sue Jones of East Kent Hospitals for her fantastic poster on The Implementation of Pharmacy Assistants working in a Clinical Environment (ward setting).
A huge thank you to everyone who participated. Find out why these three where crowned winners of the Katherine Miles poster competition by checking out their poster entries below:
Keep your eyes peeled as the APTUK will soon be confirming their 2018 conference dates and venue. If you have a creative idea to share on best practice improvements in your department, be sure to visit aptuk.org to see how you can enter in next year's competition!
Featured Blog
Jun 2017 - Great filters, greater service...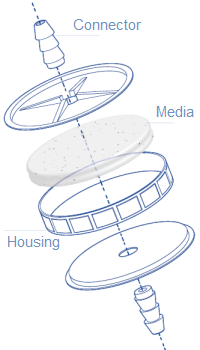 Helapet's range of standard and bespoke inline disposable disc filters are manufactured in-house by our cleanroom team in our ISO Class 7 rated facilities, equipped with the latest machinery and tooling to provide a quick yet highly accurate output. Supported by the ongoing implementation of 5S methods, lead times between initial designs to completed product continues to shorten for the benefit of our valued customers.
We maintain our dedicated and interactive Filter Devices website to host and inform our customers on the choice of filter media, housing connectors and sizes available from Helapet, supported by bespoke company branding.
Taking great pride in our one-to-one consultation, hear what our customers have had to say:
"We changed our filter supplier to Helapet two years ago. In this time we have been impressed by the quality of the filters provided. Deliveries and lead times have been very good. An additional benefit has been the level of support on a technical basis, advising of the materials to be used and the professionalism of the sales and engineering staff."
Dental Equipment Manufacturer, UK
Fulfil your unique filtration requirements by visiting FilterDevices.co.uk and choose the Vari-Disk® service to build your desired filter device.
Featured Press Release
May 2017 - VaccinePorter® Carrier Systems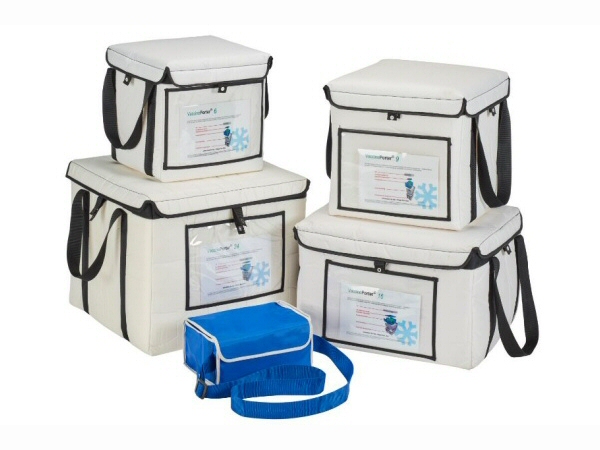 Keeping your medicines effective
Temperature controlled products are products which are actively or passively controlled at a level different from the surrounding environment. This is one of the most vital parts of transporting temperature sensitive products. Vaccines are transported in refrigerated containers to surgeries and local vaccine storage facilities where they are then stored in special vaccine fridges. Keeping the vaccines within the +2°C and +8°C temperature range throughout this process is 'maintaining the cold chain'. Having products too cold causes deterioration or too warm can render the vaccine inert. Vaccines need to be stored and managed correctly so that immunisations are carried out safely and efficiently reducing the risk of compromising the quality, efficacy and safety of the vaccine program.
Having a reliable system ensures that your products are not compromised when in transit. The VaccinePorter® range allows for a safe controlled transit of temperature sensitive products between +2°C and +8°C for up to 8 hours even with multiple openings. Validation documentation assures you that the controlled product will be safe in transit. Porters are available in various sizes allowing flexibility in vaccine transportation.
Each Porter comes with a lightweight fully replaceable polystyrene inner surrounded by a strong bag with secure Velcro fastening and a tamper evident facility. In order to maintain the validation for each Porter, regular visual and weight checks are to be carried out to the cool pack ensuring the weight and product is not compromised. The polystyrene inner will also need to be checked for and chips or damage. These signs could affect the validations and will need to be replaced before use.
To learn more or to request a product demonstration please call 0800 0328 428 or email sales@helapet.co.uk.
Featured Blog
Apr 2017 - Easter Shutdown Notice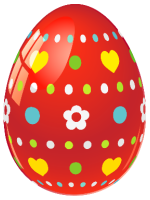 Spring has sprung and as we fall into this season we are looking ahead to confirm our order and delivery schedule for Easter 2017.
We would like to advise our customers that we will be closing this year at 5pm on Thursday 13th April, and will re-open normal business hours on Tuesday 17th April 2017.
For cracking guaranteed* delivery on Tuesday 17th April 2017:
| | | |
| --- | --- | --- |
| | Order by | For guaranteed* delivery by |
| UK Mainland & South of Scotland | 3pm on Thursday 13th April | Tuesday 17th April |
| Scotland Highlands & Islands | 3pm on Wednesday 12th April | Tuesday 17th April |
It is all so very egg-citing, it raises my hare's! For information and delivery times for countries outside of the UK, please email us at sales@helapet.co.uk.
Please note, dates are subject to couriers and availability of stock.
Featured Blog
Apr 2017 - Helapet launch new Website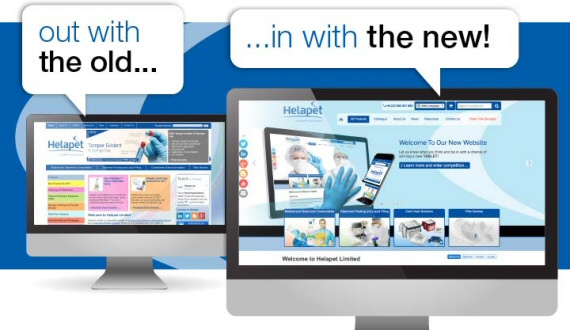 "Accessing Helapet products just got easier"
Taking a fresh view in the development of our website, we have kept the user firmly in mind with a decluttered and simplified design, supported by optimised navigation and easy-to-use menu selections. Fully compatible with today's browsers and mobile technologies, visitors can enjoy full and easy access using any mobile device, from any location. We have also included significantly more content with richer product information and details about our products, reflecting our dedication to quality service and customer support.
Featured Press Release
Mar 2017 - Helapet unveil new products for 2017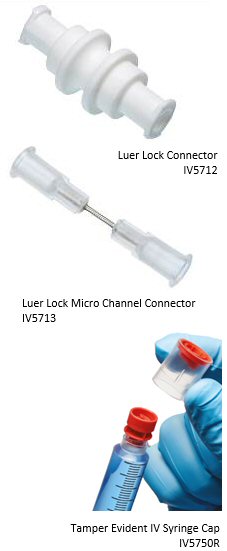 Female Luer Lock Connectors / Tamper-evident IV Syringe Cap
As part of our growing portfolio of sterile syringe caps and transfer devices, Helapet Ltd have today unveiled new sterile consumable products for 2017.
Female Luer Lock Connectors for luer lock syringes facilitate safe, contaminant-free transfer of fluids from a master syringe into smaller doses. Manufactured using latex-free and non-pyrogenic materials, our double ended Luer Lock Connectors can be securely applied to male luer lock syringes preventing the risk of leaking and possible contamination.
Technicians now have more control in the sterile preparation of syringes, with a choice of Luer Lock Connectors to suit individual application. The Female Luer Lock Connector has an ergonomic, rounded design with a spacious pathway to facilitate rapid and efficient transfer of fluids between syringes. Our unique Luer Lock Micro Channel Connector includes a narrow bore pathway for precise transfer of smaller doses, leaving minimal residual waste between syringes. Delivering valuable accuracy the Luer Lock Micro Channel Connector is perfect for paediatric medicines, small syringe sizes and high value medications.
Both Luer Lock Connectors are supplied individually blister packed making them deal for disinfection and non-touch application to the syringe.
Tamper-evident IV Syringe Caps for luer lock syringes are a practical, cost-effective solution for the protection of syringes once they have left the sterile preparation area. An easy-to-use alternative to sticky tamper-evident tape or shrink wrap, Tamper Evident IV Syringe Caps maintain the product integrity of the syringe and allows clinical professionals to visually identify any evidence of tampering before administration.
Manufactured from latex-free materials, each cap can be applied to a luer lock syringe using the specially designed sterile tray packaging. Each sterile tray contains ten caps that are individually secured with a simple twist of the syringe, negating the risk touch contamination and enhancing aseptic technique. Simple and easy-to-use, Helapet's new Tamper Evident IV Syringe Caps offer excellent value in maintaining drug safety.
For more information or to place an order, contact Helapet on 0800 0328 428 or email sales@helapet.co.uk. FREE samples of all our new products are now available on request.
Featured Event
Feb 2017 - Helapet to exhibit at the Clinical Pharmacy Congress 2017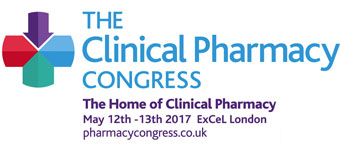 The Clinical Pharmacy Congress is the UK's largest gathering of clinical pharmacy professionals and Helapet are excited to be an important part of it once again.
Taking place on 12th and 13th May, be sure to register today and visit Helapet on stand H20 to learn more about our products and services.
We look forward to seeing you there!
Featured Blog
Jan 2017 - 2017 Product Catalogue - Available now!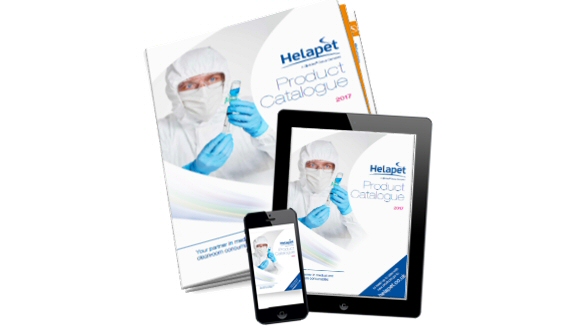 Our latest publication of the Helapet Product Catalogue has arrived!
Packed full with an extensive portfolio of quality medical and cleanroom consumables, tested and validated for critical environment activities.
Over 250 quality consumables
Colour coded categories
Sterile and non-sterile product ranges
Latest product releases
Providing you with the best solution for your application requirements, all compiled into an easy-to-read 44 page essential product guide.
For more information about our products or to request free samples email sales@helapet.co.uk or contact 0800 0328 428 now!
Featured Blog
Oct 2016 - New Machinery for Filter Devices

In response to increasing demand, Helapet are investing in the increased production of inline disc filters with brand new injection moulding machinery and tooling.
For over 30 years our Filter Devices division has specialised in the design and manufacture of 25mm and 50mm inline filters, with the ability to customise them with different filter media and inlet/outlet connections.
A few words from Dean Marsh, Operations Manager
"This new machinery will support our ongoing growth strategy and improve production capacity for our 50mm filters. We also expect to gain greater precision and control of our components, which will help build on our reputation for quality and allow us to investigate other product opportunities."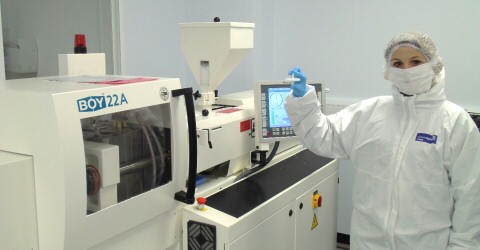 Learn more about our range of filter devices and their numerous applications by visiting filterdevices.co.uk or request your free brochure by emailing info@helapet.co.uk.
Featured Press Release
Oct 2016 - New SteriSpor™ Sterile Sporicidal Spray
Helapet are delighted to introduce our all new sterile sporicidal trigger spray, christened SteriSpor™ for use in controlled cleanroom environments.
A fast acting yet non-hazardous hypochlorous acid (HOCl) solution, SteriSpor™ has been developed to minimise the risk of viable spore contamination during aseptic transfer of cleanroom materials.
A fully validated sporicidal, bactericidal and fungicidal spray, SteriSpor™ meets all necessary EN standards and exceeds latest UK efficacy guidelines. A greater than 3 log reduction combined with a contact time of less than 1 minute demonstrates rapid elimination of spores and spore forming bacteria in accordance with EN13704. Leaving minimal residue SteriSpor™ reduces removal time and corrosion risk to cleanroom equipment, isolators and furniture.
Classified as non-hazardous and emitting very low odour compared to other sporicidal products, SteriSpor™ sprays provide assured safe handling for cleanroom operators.
Each spray is aseptically filled into an ergonomically designed bottle using a closed system format to maintain 3 month in-use sterility, preventing the ingress of contaminated air. SteriSpor™ sprays are fully cleanroom processed and double bagged for smooth and efficient transfer into cleanroom environments.
With no activation required SteriSpor™ sprays deliver exceptional performance straight from the dispenser.
Available with all necessary certification and technical data, SteriSpor™ sporicidal sprays presents the ideal solution in aseptic transfer disinfection and cleanroom cleaning.
For additional customer service and to request free samples, email us at sales@helapet.co.uk or contact us directly on (0)800 0328 428.
Featured Blog
Jul 2016 - New cleanroom packaging & liquid fill service unveiled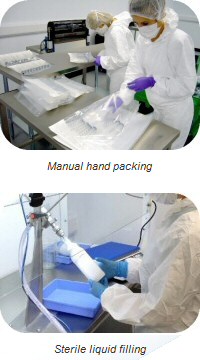 Helapet are delighted to launch a new contract cleanroom packing, bagging and liquid filling service, available to clients seeking to package their products in a contaminant free environment. Using our spacious class 10,000 cleanrooms alongside a class 1,000 liquid filling facility, we offer a fully compliant assembly and packaging line.
✓

Manual hand packing

✓

Semi-automated bagging

✓

Pouch sealing

✓

Sterile liquid filling

✓

OEM labelling

✓

Sterilisation management
We combine our specialist production activities into a bespoke, flexible service of which we are happy to accommodate bulk orders as well as small runs. Helapet offers assured quality certification to ISO13485, supported by regular quality inspection and experienced cleanroom staff.
If you have a project you would like to discuss, email your requirements to us at sales@helapet.co.uk or click here to learn more.