New Veterinary Cyto Procedure Packs offering extra protection against Chemotherapy Cytotoxics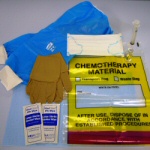 Helapet are pleased to announce the launch of our first dedicated range of Veterinary Cyto Procedure Packs.
Based on research into the protective needs of vets administering chemotherapy, Helapet recognises the serious side-effects associated with cytotoxic exposure from spills, splashes and aerosol inhalation.
Designed to provide confidence that you and your staff are fully protected when working with hazardous solutions, the Veterinary Cytotoxic Procedure Pack features a list of highly resistant apparel and essential disposables - all contained in a handy self-contained pack!
---
About Us / Helapet are a reputable manufacturer and distributor of high quality medical and cleanroom consumables, serving several core markets including pharmacy aseptic production, pharmaceutical manufacturing, laboratory and veterinary environments for over 30 years.
Established in 1984, Helapet delivers a diverse and innovative range of sterile and non-sterile products, supporting critical environment activities across all areas of aseptic manufacturing and healthcare provision.
We have four main areas of business:
Medical and Cleanroom Consumables
Contract Cleanroom Packaging and Liquid Filling
Cold Chain Solutions
Inline Disc Filters
All these areas are supported by our market leading customer service, providing exceptional one-to-one consultancy, advice and technical support.
Click here to view our Vision, Mission and Values statement.
Since 2002 Helapet has been a member of the respected CliniMed® (Holdings) Group.
Comprising of eight specialist companies, the CliniMed® Group are dedicated to supporting patient care through the supply of vital products into the healthcare industry.
May 2013