Your extra margin of safety with new NeedleSafe II™ exclusively from Helapet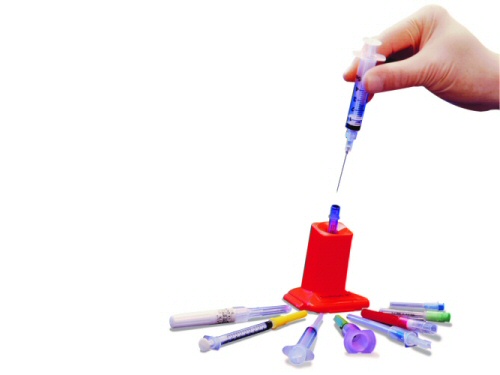 In the vital drive to reduce needle-stick injury, Helapet are delighted to introduce the NeedleSafe II™ as the safe, easy-to-use solution for the uncapping and re-capping of needles.
Offering superior protection, NeedleSafe II™ allows customers a simple single-handed method of uncapping and re-capping needles across a universal array of healthcare applications. Small, lightweight and highly versatile, this innovative medical device can eliminate the risk of needle-stick exposure without taking up valuable workspace.
Available exclusively to Helapet in the UK and Ireland, NeedleSafe II™ has been designed to be totally re-usable, significantly reducing medical waste and associated disposal costs. An internal gripper core allows NeedleSafe II™ to fit with several needle types including IV Catheters and Phlebotomy sets, providing essential protection whenever and wherever required.
The vast applications of NeedleSafe II™ are complimented with a detachable mounting bracket that can securely fasten the assembly horizontally or vertically onto any surface. Users can easily detach NeedleSafe II™ and clean using a number of techniques including autoclaving, ethylene oxide gas, or simple alcohol disinfection.
NeedleSafe II™ has already achieved high global recognition, having been adopted to support needle-stick injury reduction in several healthcare departments. To see the benefits yourself simply call our UK freephone 0800 0328 428 or email sales@helapet.co.uk to request your free trial.
---
About Us / Helapet are a reputable manufacturer and distributor of high quality medical and cleanroom consumables, serving several core markets including pharmacy aseptic production, pharmaceutical manufacturing, laboratory and veterinary environments for over 30 years.
Established in 1984, Helapet delivers a diverse and innovative range of sterile and non-sterile products, supporting critical environment activities across all areas of aseptic manufacturing and healthcare provision.
We have four main areas of business:
Medical and Cleanroom Consumables
Contract Cleanroom Packaging and Liquid Filling
Cold Chain Solutions
Inline Disc Filters
All these areas are supported by our market leading customer service, providing exceptional one-to-one consultancy, advice and technical support.
Click here to view our Vision, Mission and Values statement.
Since 2002 Helapet has been a member of the respected CliniMed® (Holdings) Group.
Comprising of eight specialist companies, the CliniMed® Group are dedicated to supporting patient care through the supply of vital products into the healthcare industry.
Aug 2013