Helapet celebrates 30th Anniversary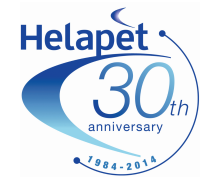 2014 marks the 30th anniversary for Helapet Ltd as a leading UK supplier of cleanroom consumables and in-line filtration solutions.
Starting business in 1984, Helapet established a strong reputation as a hi-tech disposables supplier and importer to the cleanroom industry. Since then Helapet has expanded into multiple new markets including Healthcare, Pharmacy, Pharmaceutical Manufacturing, and Filtration, offering innovative product ranges whilst maintaining high standards of customer service and technical support.
In 2002 Helapet became part of the CliniMed (Holdings) group, advancing the companies consistent growth and unlocking more business potential. Today Helapet operates a 20,000 sq ft facility containing state of the art cleanroom facilities and employing over 25 staff from its headquarters in Houghton Regis.
John Blight, MD of Helapet comments - "In the face of economic challenges and ever changing markets, Helapet has continued to prosper with exciting strategies, increasing supplier partnerships, and strong investment in future projects. With our dedicated Helapet team and partners across the globe, Helapet will now look to the next 30 years as an innovative and trusted provider"
To mark this big milestone, Helapet have dedicated a new anniversary logo until the end of 2014. To learn more about Helapet please visit www.helapet.co.uk.
---
About Us / Helapet are a reputable manufacturer and distributor of high quality medical and cleanroom consumables, serving several core markets including pharmacy aseptic production, pharmaceutical manufacturing, laboratory and veterinary environments for over 30 years.
Established in 1984, Helapet delivers a diverse and innovative range of sterile and non-sterile products, supporting critical environment activities across all areas of aseptic manufacturing and healthcare provision.
We have four main areas of business:
Medical and Cleanroom Consumables
Contract Cleanroom Packaging and Liquid Filling
Cold Chain Solutions
Inline Disc Filters
All these areas are supported by our market leading customer service, providing exceptional one-to-one consultancy, advice and technical support.
Click here to view our Vision, Mission and Values statement.
Since 2002 Helapet has been a member of the respected CliniMed® (Holdings) Group.
Comprising of eight specialist companies, the CliniMed® Group are dedicated to supporting patient care through the supply of vital products into the healthcare industry.
Feb 2014