New Vented Vial Adapters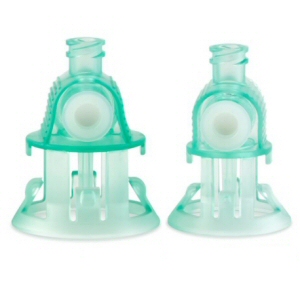 Needle-free venting at its best.
Supporting GMP in compounding operations where exposure to potent drugs may occur, Helapet introduce our NEW range of single-use Vented Vial Adapters for stable, needle-free vial access.
Helapet's new Vented Vial Adapter range incorporates a 0.2µm bilateral air filter, allowing safe sterile venting of cytotoxics and other hazardous substances. Designed for high chemical resistance, the Vented Vial Adapter is evaluated against a selection of drugs known to adversely affect the performance of other polymeric devices.
Compatible with standard 13mm and 20mm vials each device utilises a non-coring plastic spike surrounded by a snap-on skirt to securely fasten onto vial tops, granting stable luer lock access to a syringe. An integrated grip allows easy handling whilst reducing contact with the luer connection.
The novel skirt design prevents the subsequent removal of the adapter from the vial, offering excellent security and reducing the risk of cross contamination.
With an increasing requirement for needle-free technologies within aseptic manufacturing and medical healthcare, Helapet are pleased to introduce the Vented Vial Adapter range, sterile and individually blister packed for clinical and cleanroom working operations.
For more information and request FREE Samples, contact 0800 0328 428 or emailsales@helapet.co.uk
Feb 2015