New Vented Vial Adapters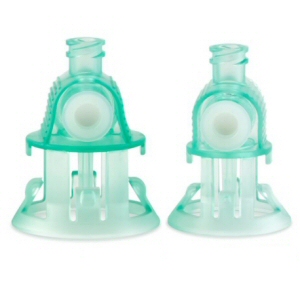 Needle-free venting at its best.
Supporting GMP in compounding operations where exposure to potent drugs may occur, Helapet introduce our NEW range of single-use Vented Vial Adapters for stable, needle-free vial access.
Helapet's new Vented Vial Adapter range incorporates a 0.2µm bilateral air filter, allowing safe sterile venting of cytotoxics and other hazardous substances. Designed for high chemical resistance, the Vented Vial Adapter is evaluated against a selection of drugs known to adversely affect the performance of other polymeric devices.
Compatible with standard 13mm and 20mm vials each device utilises a non-coring plastic spike surrounded by a snap-on skirt to securely fasten onto vial tops, granting stable luer lock access to a syringe. An integrated grip allows easy handling whilst reducing contact with the luer connection.
The novel skirt design prevents the subsequent removal of the adapter from the vial, offering excellent security and reducing the risk of cross contamination.
With an increasing requirement for needle-free technologies within aseptic manufacturing and medical healthcare, Helapet are pleased to introduce the Vented Vial Adapter range, sterile and individually blister packed for clinical and cleanroom working operations.
For more information and request FREE Samples, contact 0800 0328 428 or emailsales@helapet.co.uk
---
About Us / Helapet are a reputable manufacturer and distributor of high quality medical and cleanroom consumables, serving several core markets including pharmacy aseptic production, pharmaceutical manufacturing, laboratory and veterinary environments for over 30 years.
Established in 1984, Helapet delivers a diverse and innovative range of sterile and non-sterile products, supporting critical environment activities across all areas of aseptic manufacturing and healthcare provision.
We have four main areas of business:
Medical and Cleanroom Consumables
Contract Cleanroom Packaging and Liquid Filling
Cold Chain Solutions
Inline Disc Filters
All these areas are supported by our market leading customer service, providing exceptional one-to-one consultancy, advice and technical support.
Click here to view our Vision, Mission and Values statement.
Since 2002 Helapet has been a member of the respected CliniMed® (Holdings) Group.
Comprising of eight specialist companies, the CliniMed® Group are dedicated to supporting patient care through the supply of vital products into the healthcare industry.
Feb 2015