SteriClean® FloWrap Impregnated Wipes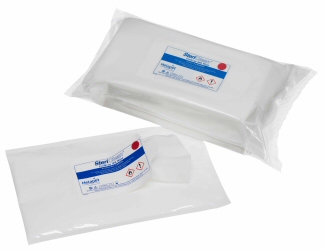 SteriClean® FloWrap wipes offer exceptional cleaning and sanitising performance for cleanrooms and isolators.
Aseptically impregnated with high performance Isopropyl alcohol IPA or Denatured Ethanol (IMS), Helapet FloWrap wipes are designed to be tough on contamination without leaving undesirable residues.
Each low linting wipe comprises of a tough, highly absorbent 68 gsm polyester/cellulose material, allowing quick and rapid disinfection of surfaces without the risk of shredding which could compromise the sterile environment.
Ready folded in 10 and 100 wipe multi-packs and individually accessed from the paper-free pouch, allowing staff to easily manage their usage.
Produced in an ISO Class 5 environment, each FloWrap pack is double bagged and gamma sterilised to no less than 25KgY supporting aseptic transfer into critically controlled environments. 'Peel and reseal' labels allow each pack to be sealed between wipes, avoiding the risk of unused wipes drying.
Users are left with only a thin piece of polythene to dispose of once the pack is fully used, ensuring less waste to dispose of and maintaining valuable work space. This makes Helapet FloWrap wipes an excellent option for confined environments such as isolators and an ideal alternative to bulky tub wipes.
Whether you require our FloWrap impregnated wipes, dry wipes or individual alcohol wipes, you can rest assured we have a solution to meet your needs.
Order your free samples of our FloWrap range by contacting us on +44 (0)800 0328 428 or email sales@helapet.co.uk.
---
About Us / Helapet are a reputable manufacturer and distributor of high quality medical and cleanroom consumables, serving several core markets including pharmacy aseptic production, pharmaceutical manufacturing, laboratory and veterinary environments for over 30 years.
Established in 1984, Helapet delivers a diverse and innovative range of sterile and non-sterile products, supporting critical environment activities across all areas of aseptic manufacturing and healthcare provision.
We have four main areas of business:
Medical and Cleanroom Consumables
Contract Cleanroom Packaging and Liquid Filling
Cold Chain Solutions
Inline Disc Filters
All these areas are supported by our market leading customer service, providing exceptional one-to-one consultancy, advice and technical support.
Click here to view our Vision, Mission and Values statement.
Since 2002 Helapet has been a member of the respected CliniMed® (Holdings) Group.
Comprising of eight specialist companies, the CliniMed® Group are dedicated to supporting patient care through the supply of vital products into the healthcare industry.
Nov 2015