New Helapet 2018 Product Catalogue - out now!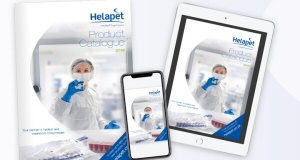 Helapet are excited to announce the release of our new 2018 Product Catalogue. Our new 52- page edition includes a host of new products including new triple bagged sterile consumables, an extended range of sterile multi-pack syringes, our new 7L size sterile sharps bins and more.
Our product pages feature further helpful product and ordering information including size charts for cleanroom garments such as our all-in-one cleanroom suits, Berner gowns and Tyvek® Lab Coats.
Designed to be easy-to-use, with high quality visuals all organised into easy-to-navigate colour coded sections, customers can quickly and easily source and order the right product. Our new introduction section explains more about our company, our core service commitments, including some of our latest testimonials highlighting what our customer think of us.
Highlights of the 2018 catalogue include:
Dedicated about us section, incorporating a company overview and supporting testimonials from our customers.
Extended product information on our consumables including new products for 2018.
Handy size charts included for cleanroom garments.
Featured Cleanroom Contract Packaging and Liquid Fill Services providing key information on our services and capabilities.
Key order information on the rear page, with useful discount opportunities and ways to track Helapet deliveries.
We trust you will find our new catalogue informative and convenient. Request your physical copy today or download direct from our website helapet.co.uk.
Feb 2018