Poster submissions for The Katherine Miles Poster Award are now open!


@APTUK1
The Association of Pharmacy Technicians UK (APTUK) are calling for poster abstract submissions for the 2019 Katherine Miles Poster Award, proudly sponsored by Helapet Ltd. APTUK provides continued support in the training and development of Pharmacy and Healthcare practitioners.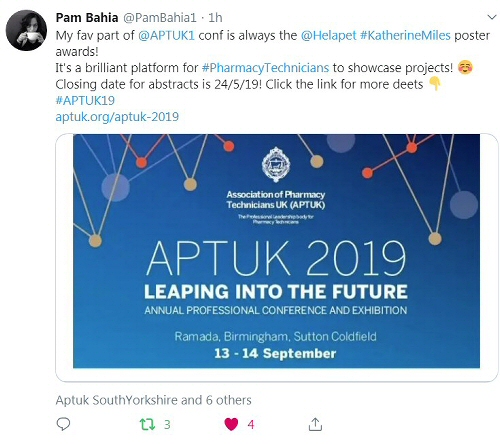 @PamBahia1
The Katherine Miles poster competition helps support creative thinking; using posters to illustrate latest research and generate new and valuable ideas. This award recognises the diverse practice of pharmacy technicians by sharing best practice, innovation, research, education and development. It is also a great platform for pharmacy technicians to showcase projects and achievements, as well as celebrating their innovative roles in contributing to excellent patient centred care.
The winner of the Katherine Miles poster will be announced at the APTUK conference, held on the 13th and 14th September at the Ramada Birmingham Sutton Coldfield. Helapet are looking forward to seeing this year's poster submissions and to present this incredible award again at the annual conference. We love supporting and celebrating the work of pharmacy technicians!
If you are a Pharmacy Technician and have a creative idea to share on best practice improvements in your department, please visit aptuk.org and enter this year's poster competition! The deadline for poster abstract submissions is Friday 24th May 2019.
Good luck from all the Helapet team!
Take a look at last year's winning posters
Winner presentations by Robert Collins, Senior Account Manager, Helapet.
Feb 2019