Clean it first with new SteriClean® Neutral Detergent
Helapet are delighted to introduce our new SteriClean® Neutral Detergent Spray. A sterile, PH neutral, non-ionic detergent with low residues, designed to work alongside our exclusive SteriClean® range of sterile alcohol disinfectants in critically controlled environments.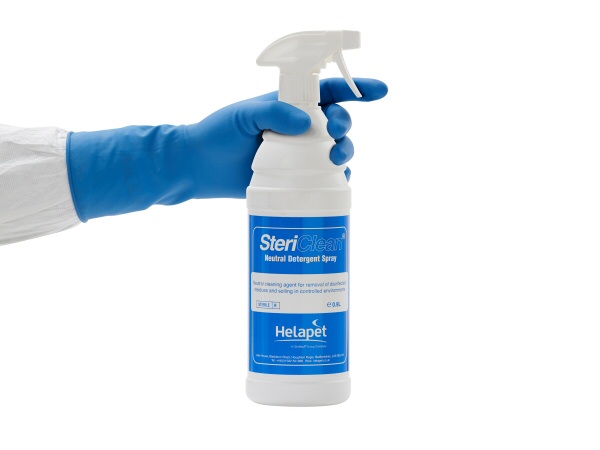 For a disinfectant to work effectively, it is beneficial to use a detergent spray beforehand. This will remove residues and soiling. For many, using a neutral detergent spray to clean surfaces prior to disinfection is an important step. This month, Helapet have unveiled a new sterile Neutral Detergent Spray which complements their exclusive SteriClean® range of sterile cleaning and disinfectant consumables.
A ready mixed pH neutral solution blended with WFI (water for injection), this excellent general purpose cleaning agent is highly effective at removing soiling without the risk of damaging acid or alkaline sensitive surfaces. Non-ionic with an excellent toxicology profile makes this product ideal for use on oily residue and sticky substances, without the need for additional garment protection.
SteriClean® Neutral Detergent spray is 0.2 micron filtered and cleanroom processed. Each 0.9L bottle is individually double-bagged and terminally irradiated for smooth cleanroom transfer and immediate use.
Compatible for use in high grade cleanroom areas, including isolators and work benches. Helapet sterile trigger sprays incorporate a validated closed bag-in-bottle system and non-vented trigger to restrict the ingress of bacteria to maintain sterility of the bottle contents. The lightweight and ergonomic bottle design includes a fully adjustable trigger nozzle allowing for the solution to be dispensed either as a jet or mist.
For additional information on the SteriClean® Neutral Detergent or to request free trial samples, please email sales@helapet.co.uk or call T (0)800 0328 428.
---
About Us / Helapet are a reputable manufacturer and distributor of high quality medical and cleanroom consumables, serving several core markets including pharmacy aseptic production, pharmaceutical manufacturing, laboratory and veterinary environments for over 30 years.
Established in 1984, Helapet delivers a diverse and innovative range of sterile and non-sterile products, supporting critical environment activities across all areas of aseptic manufacturing and healthcare provision.
We have four main areas of business:
Medical and Cleanroom Consumables
Contract Cleanroom Packaging and Liquid Filling
Cold Chain Solutions
Inline Disc Filters
All these areas are supported by our market leading customer service, providing exceptional one-to-one consultancy, advice and technical support.
Click here to view our Vision, Mission and Values statement.
Since 2002 Helapet has been a member of the respected CliniMed® (Holdings) Group.
Comprising of eight specialist companies, the CliniMed® Group are dedicated to supporting patient care through the supply of vital products into the healthcare industry.
Aug 2019