NEW HazMat Chemical Absorbent Pillows
High capacity absorbency when and where you need it.
Helapet are delighted to introduce our new HazMat Chemical Absorbent Pillow, ideal for soaking up accidental chemical and non-chemical spills including acids, caustics and unknown liquids without degrading.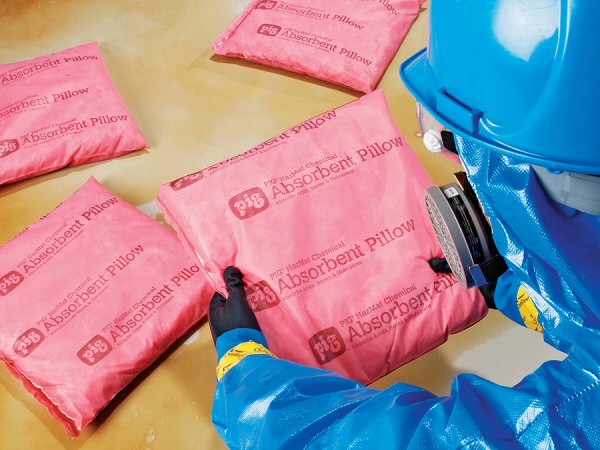 Able to absorb up to ten times its own weight, the single-use HazMat Chemical Absorbent Pillows can be safely used with larger spills in various industries. With a robust polypropylene surface area and filler, each pillow is designed for rapid absorption of solution providing peace of mind during clean up. When working with more aggressive fluids, the polypropylene fabric can resist chemicals and holds in the liquid even when saturated, giving further assurance to the user. Each pillow can then be removed easily without the risk degradation, tearing or dripping.
The HazMat Chemical Absorbent Pillow is a highly distinguishable pink to ensure staff and workers know immediately which pillow to use and can be incinerated for safe removal and reduction of waste. This highly versatile and highly absorbent pillow comes in three capacity sizes to deal with different levels of spill.
The Helapet HazMat Chemical Absorbent Pillow is suitable for use in any industry that could experience larger chemical spills and is supported with comprehensive compatibility test data.
For additional information on the HazMat Chemical Absorbent Pillows, technical data sheet or to request free trial samples, please email sales@helapet.co.uk or call (0)800 0328 428. Sign up to our mailing list for further product updates or follow us on Twitter, LinkedIn or Facebook
---
About Us / Helapet are a reputable manufacturer and distributor of high quality medical and cleanroom consumables, serving several core markets including pharmacy aseptic production, pharmaceutical manufacturing, laboratory and veterinary environments for over 30 years.
Established in 1984, Helapet delivers a diverse and innovative range of sterile and non-sterile products, supporting critical environment activities across all areas of aseptic manufacturing and healthcare provision.
We have four main areas of business:
Medical and Cleanroom Consumables
Contract Cleanroom Packaging and Liquid Filling
Cold Chain Solutions
Inline Disc Filters
All these areas are supported by our market leading customer service, providing exceptional one-to-one consultancy, advice and technical support.
Click here to view our Vision, Mission and Values statement.
Since 2002 Helapet has been a member of the respected CliniMed® (Holdings) Group.
Comprising of eight specialist companies, the CliniMed® Group are dedicated to supporting patient care through the supply of vital products into the healthcare industry.
Feb 2020