NEW Viscot Sterile Utility Marker Pens for labelling in cleanroom environments
Helapet are delighted to introduce our new Sterile Utility Marker Pen, ideal for the precise labelling of bags, vials and syringes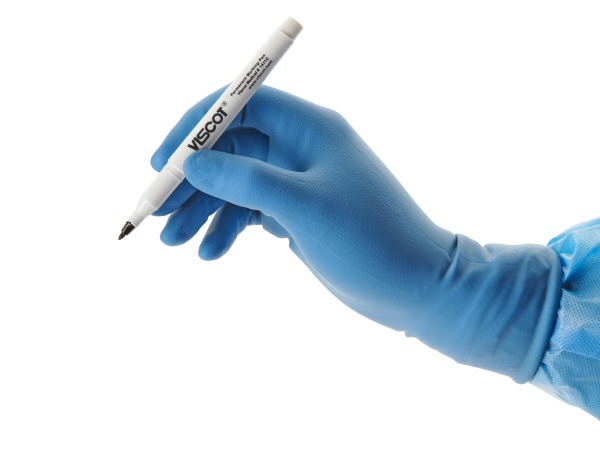 The Viscot Sterile Utility Marker Pen is ideally suited for writing on medication labels within sterile working environments. Waterproof and smudge proof permanent ink supports writing on labels, glass, syringes and other plastics without the risk of smearing or removal.
Each pen has a durable fine tip for precise writing of labels and vials and includes nine blank medication labels and a handy ruler.
The pen, labels and ruler are all packaged in sterile blister packaging allowing for material transfer and use in cleanrooms and isolators. Each pen is latex-free, individually lot numbered and CE-Marked, containing non-toxic black ink.
For additional information on the Helapet Sterile Utility Marker Pens, to request a trial sample or to receive a technical data sheet, please email sales@helapet.co.uk or call (0)800 0328 428.
---
About Us / Helapet are a reputable manufacturer and distributor of high quality medical and cleanroom consumables, serving several core markets including pharmacy aseptic production, pharmaceutical manufacturing, laboratory and veterinary environments for over 30 years.
Established in 1984, Helapet delivers a diverse and innovative range of sterile and non-sterile products, supporting critical environment activities across all areas of aseptic manufacturing and healthcare provision.
We have four main areas of business:
Medical and Cleanroom Consumables
Contract Cleanroom Packaging and Liquid Filling
Cold Chain Solutions
Inline Disc Filters
All these areas are supported by our market leading customer service, providing exceptional one-to-one consultancy, advice and technical support.
Click here to view our Vision, Mission and Values statement.
Since 2002 Helapet has been a member of the respected CliniMed® (Holdings) Group.
Comprising of eight specialist companies, the CliniMed® Group are dedicated to supporting patient care through the supply of vital products into the healthcare industry.
Feb 2020