Introducing our new 1L Sterile Sharps Bin range for compact disposal of standard and cytotoxic contaminated waste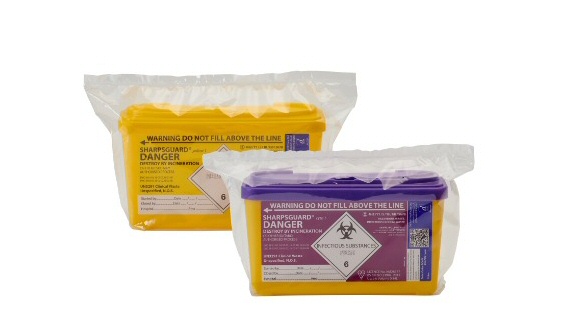 Helapet's new 1 Litre Sterile Sharps Bin range is designed for stable, compact sharps disposal close to hand. This is particularly important in confined sterile environments including laminar flow cabinets and isolators.
Our new 1L Sterile Sharps Bins are supplied pre-cleaned and individually double or triple polybagged in an ISO Class 7 cleanroom. Each sharps bin is terminally gamma sterilised to 25kGy making them suitable for assured, swift aseptic transfer, saving valuable time and cost on cleaning and sterilisation within your own unit.
Both yellow and purple lid sterile sharps bins fully comply with standards necessary for the safe and efficient disposal of sharps. The colour coded tops provide clear identification for use with standard sharps waste or cytotoxic contaminated waste sharps, with handy instructions-for-use provided on the label.
Why not meet the whole family?
Select from our full range of Yellow and Purple Lid Sterile Sharps Bins, available in several sizes up to 7 litre to suit specific capacity requirements. Each container has the option of sterile double polybagged or triple polybagged packaging with free samples available to order today.
To request free trial samples and price information, please email sales@helapet.co.uk or visit our dedicated product page at www.helapet.co.uk
ENDS
About Us - Helapet are a reputable manufacturer and distributor of high quality medical and cleanroom consumables, serving several core markets including pharmacy aseptic production, pharmaceutical manufacturing, laboratory, industrial and veterinary environments for over 30 years.
Established in 1984, Helapet delivers a diverse and innovative range of sterile and non-sterile products, supporting critical environment activities across all areas of aseptic manufacturing and healthcare provision.
Helapet are proud to serve an ever increasing number of industries in the UK and globally. We use our experience and customer relationships to understand ever changing market demands, producing suitable product solutions in accordance with our client expectations:
Helapet offer unrivalled quality in the design and manufacture of our inline disc filters, both as off-the-shelf products or custom made specials. We supply filters for OEM and end-user applications in a wide range of markets including pharmaceutical, environmental monitoring, print, food and drink and electronics. Helapet strive to introduce added value to our filtration products, using consultancy based manufacturing and comprehensive testing to meet customer expectations.
We have four main areas of business:
Inline Disc Filters
Medical and Cleanroom Consumables
Contract Cleanroom Packaging and Liquid Filling
Cold Chain Solutions
All these areas are supported by our market leading customer service, providing exceptional one-to-one consultancy, advice and technical support.
Click here to view our Vision, Mission and Values statement.
May 2021