Helapet Donates Microscope To Local School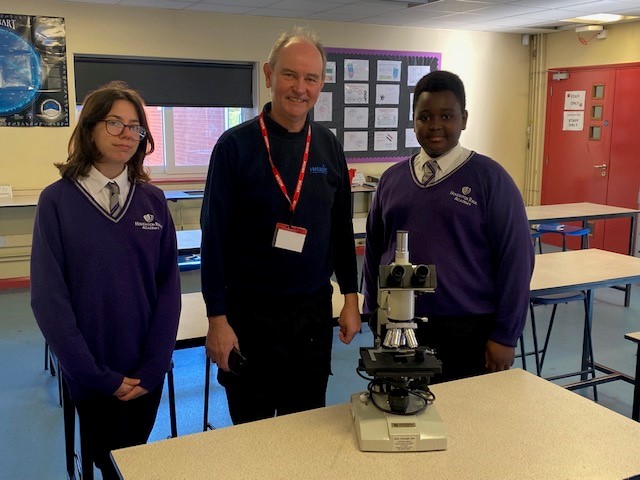 Helapet, leading UK cleanroom consumables company and filter manufacturer, are delighted to present local school, Houghton Regis Academy, with a Euromex Metallurgical Type Microscope, a significantly more advanced scope to be used alongside their own equipment in the Science Lab.
Helapet were conducting one of their regular tours of their manufacturing facility to spot any ways they can improve efficiencies as part of their 5S policy. The microscope was spotted as an unused item that had been languishing in the corner. Its purpose had been to inspect the filtration media used in their filter manufacturing for quality control. It stopped being used when more advanced inspection techniques were adopted. In order to make way for more efficient processes, it was decided to remove the unit and find another owner in a drive to be more environmentally aware.
Helapet has a strong ethos of giving back to their local community so went in search of a worthy school to donate this and were pleased to discover local middle school Houghton Regis Academy, would accept and make use of the microscope. It will be used by students aged 9 to 13 years.
Helapet has recently been awarded the Investors in People - Gold.
ENDS
About Helapet:
Proud to be a 2021 Gold Investors in People business, Helapet we have been a reputable manufacturer and distributor of high quality medical and cleanroom consumables and filters for over 30 years. We serve several core markets including hospital pharmacy, pharmaceutical manufacturing, laboratory and veterinary environments as well as other industries needing filtration devices.
Helapet delivers a diverse and innovative range of sterile and non-sterile products, supporting critical environment activities across all areas of aseptic manufacturing healthcare provision and industry.
Click here to view our Vision, Mission and Values statement.
We have four main areas of business:
Inline Disc Filters
Medical and Cleanroom Consumables
Contract Cleanroom Packaging and Liquid Filling
Cold Chain Solutions
We are based in Houghton Regis, Bedfordshire
About Houghton Regis Academy:
The Houghton Regis Academy was opened on 1st September 2012 and is sponsored by the Greenwood Dale Foundation Trust, a successful multi-Academy sponsor.
The Academy became a full secondary school in September 2015 with students from Year 7 to Year 11.
At the Houghton Regis Academy, we want to raise standards and outcomes for all our pupils and to provide a high-quality secondary education for all local children who enrol.
We want our pupils, no matter what their age or ability, to be proud to belong to their Academy, be proud of their achievements and to know we have their best interests at heart. Whatever our pupils' backgrounds, we want them to be in the best possible position to move on to a successful life beyond school - whether it is in further education, training or employment.
This Academy is sponsored by the Greenwood Academies Trust which was formed in 2009 and now educates approximately 16,000 pupils across seven local authority areas including Nottingham City, Nottinghamshire, Leicester City, Northamptonshire, Peterborough, Lincolnshire and Central Bedfordshire.
Jan 2022