A new year, a new beginning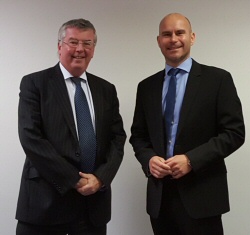 January marks the start of a big change at Helapet Ltd... Managing Director John Blight will be hanging up his jacket and heading off into retirement.
John joined Helapet in October 2005, initially as Operations Manager before being promoted to General Manager in 2009 and then Managing Director in 2012.
Looking back over these last 10 years we have seen some significant changes within Helapet. Our sales have more than doubled, we have seen the introduction of a field based sales team and overall employee numbers have increased. This growth, both in turnover and staff, necessitated the need to move. Whilst we didn't have to relocate far, this was still a major project and included the construction of the new cleanrooms.
With sales on track to reach record levels in 2015, Helapet is being left in a very good position for John's successor.
Picture: John Blight and Ben Miles
Replacing John as Managing Director will be Ben Miles from our sister company, Gemini Healthcare Services Ltd. Ben has been working within the CliniMed group of companies since 2003 and has been a Director since 2007 with responsibilities for Marketing, New Product Development and Regulatory Affairs.
We would like to offer both John and Ben our warm congratulations and look forward to continued success in 2016.
Oct 2015