Berner XP Cytotoxic Spill Kit
Extra Protection, Latex Free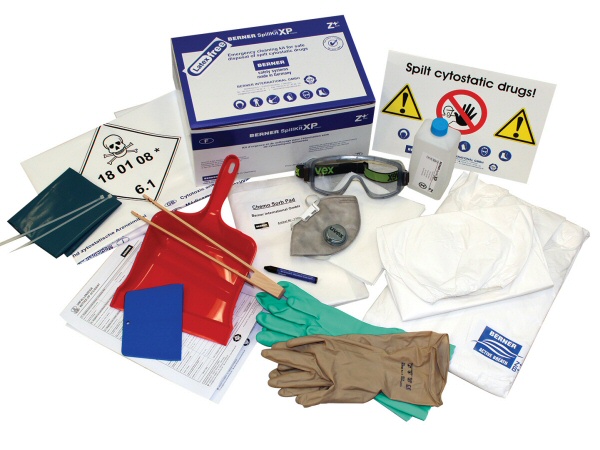 Description
The Berner XP Cytotoxic Spill Kit provides a complete emergency cleaning solution for wet and dry chemical and cytotoxic spills. Each Berner XP Spill Kit incorporates a quality list of latex-free clothing, tools and materials to safely manage and remove spilt medications and agents.
Compliant with European PPE standards and CE marked, the Berner XP Cytotoxic Spill Kit enables quick and safe access by packing the contents in the order that the user will need them. All protective barrier items have proven permeation tests against a list of commonly used chemical and cytotoxic substances.
Each spill kit comes complete with full instructions for use, accident report form and handy illustrative guide.
Ordering Information
| Part Code | Product Name | Size | Sterility | Sales Unit |
| --- | --- | --- | --- | --- |
| CS4124 | Berner XP Cytotoxic Spill Kit | medium | non-sterile | 1 pc/pck |
| CS4133 | Berner XP Cytotoxic Spill Kit | large | non-sterile | 1 pc/pck |
| CS4135 | Berner XP Cytotoxic Spill Kit | XX large | non-sterile | 1 pc/pck |
Features and Benefits
Suitable for wet and dry spills
Latex free
Complete range of essential PPE accessories
Proven barrier function
Enclosed accident report form
User instructions and illustration guide
Downloads