Helapet
› Custom Inline Disc Filters
Customised printing on your filter
As part of our OEM service we can print your brand, company logo, instructions or part numbers directly onto your filter design. Our specialist Tampo printing technology can raise brand awareness and customer loyalty by promoting your brand on each part.
Filter printing can be carried out on both the inlet and outlet sides, providing a modern design and contemporary look. We offer single colour printing and can even match pantone colours to comply with corporate branding guidelines*
Print colours include: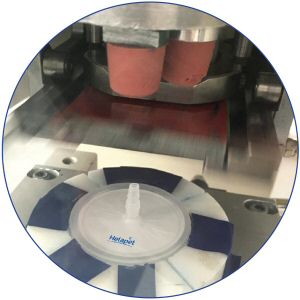 Black

Blue (

Dark Navy

and

Light Blue

)

Aqua

Red

Green

Purple
*tailored pantone colours are subject to minimum order quantities
Filter testing and validation services
Here at our Helapet site, we run a well-equipped testing facility that can conduct an individual, or a series of testing requirements to properly assess and validate your filter design. Conducted against individually designated standards, we supply full documentation to support the completed assessment, giving our clients assurance and validation for every purchase.
Test validation services include:
Bubble point testing

- A bubble point test is a non-destructive filter integrity test designed to determine the pressure at which a continuous stream of bubbles is initially seen downstream of a wetted filter under gas pressure.

Media integrity Testing

- Assessment of media integrity via the upstream application of a liquid solution e.g. Isopropyl alcohol, ink, de-ionised water and applying pressure to see how long it takes for the solution to bleed through the media.

Clean pressure drop / housing Integrity Testing

- A destructive test using pressurised air to gauge the structural performance of a filter housing.

Water-entry pressure

- A test to gauge the ability of a media to act as a liquid barrier by flushing through a set volume of liquid at a set flowrate.

Flow rate testing

- A non-destructive test using air or liquid solution to gauge filter flowrate performance under increasing pressures.

Cleanroom packing and sterilisation

Each filter device can be supplied non-sterile or ETO (Ethylene Oxide) sterilised, poly-packaged in convenient pack numbers or loose packaged. Adding additional value to your filter with custom packaging and sterilisation can help to reduce time, improve convenience and provide assured transfer of filters into environments where the reduced risk of contamination is vital.

What is cleanroom packing?

It is good practice to ensure that any device designated for use in a controlled application, or that is susceptible to contamination from airborne particles and microorganisms, be produced, processed and packaged in a cleanroom environment. To provide this service, Helapet operate an on-site ISO Class 8 rated cleanroom production suite operated by experienced, fully trained in-house staff. Our team of cleanroom operators continually implement lean principles to enhance our manufacturing and packaging processes for the benefit of our customers.