Winners of the Katherine Miles Poster Competition 2015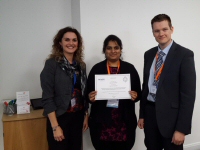 We are pleased to announce that Mandeep Matharoo of Addenbrookes Hospital became the official winner of the APTUK Katherine Miles poster competition 2015, sponsored by Helapet.
Mandeeps poster on "An innovative visual tool identifying Education & Development opportunities for pharmacy technicians, incorporating the APTUK Foundation Pharmacy Framework" secured her a cash prize of £250 and her name the board of poster winners.
Also congratulations to the runners up, Dalgeet Puaar and Emma Walker of London Pharmacy Education and Training (LPET) and Panayiotis Sphikas of University College London Hospital who also received cash prizes.
A huge thank you to everyone who participated and congratulations to our worthy winners! Find out why these three where crowned winners of the Katherine Miles poster competition by checking out their poster entries below:
If you have a creative idea to share on best practice improvements in your department, be sure to visit aptuk.org to see how you can enter in next year's competition!
Picture: Mandeep Matharoo accepting first place
Jul 2015