BD Plastipak™ 60ml Luer Lock Amber Syringe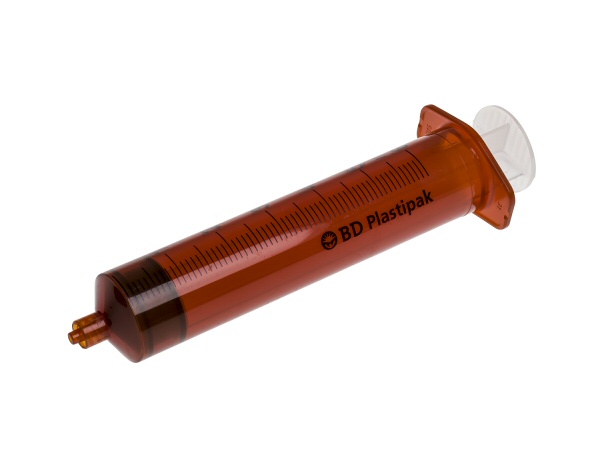 Description
Helapet offer the BD Plastipak™ 60ml Luer Lock Amber Syringe for the proven protection of photosensitive medications from production to administration.
Ideal for supporting compounding of photosensitive medications in aseptic and pharmacy manufacturing units, the BD Plastipak™ 60ml Luer Lock Amber Syringe has a distinctive coloured barrel to effectively block out up to 90% of light rays, keeping light sensitive drugs safe from breakdown or damage caused by UV, ambient and solar rays. Single 1ml graduated metric marking ensures precise dosages of medicines.
Presented individually sterile in blister packaging, offers the user safe and economical aseptic transfer into sterile working environments including cleanroom and isolators, reducing packaging waste and risk of cross contamination.
Ordering Information
Part Code
Product Name
Size
Sterility
Sales Unit
BD3050AMB
BD Plastipak™ 60ml Luer Lock Amber Syringe
60ml
sterile
4 x 60 pcs/pck
Features and Benefits
alidated safe protection of photo sensitive drugs*
1ml metric graduation for precise dosage
Secure fastening to luer lock devices and equipment
Latex free construction reducing risk of allergic reaction
Individually sterile blister packaged for economical use
* As per the transparency test (method 1) as described in the Japanese Pharmacopeia XVI. According to such method the light transmissibility (%) is characterized under a UV light source emitting at 450nm.
Downloads