Going digital with our latest newsletter - Issue 10
Hot off of the "digital" press... Helapet welcome you to issue 10 of the Helapet newsletter, available now for digital download.
Our latest issue takes us to the end of 2017 and includes news about our Christmas Shutdown, all new triple bagged individual wipes and the reintroduction of our Medicool® cool packs, back and cooler than ever! Further interesting reads include details on work towards ISO 13485:2016 and an introduction to Tiffany Hussain, new account manager for our bespoke inline Filter Devices.
We hope you find our bitesize newsletter updates interesting and thank you for sparing your valuable time to read up on our most recent developments.
Click here to download Issue 10, or request a physical copy by enquiring online.
Why not subscribe today to be part of our newsletter mailing list and receive regular updates of Helapet news and campaigns.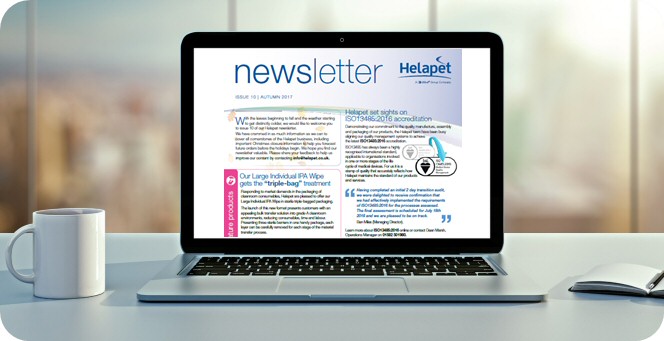 Oct 2017